I have always admired the Pokemon series from afar – furtive glances from the "I'm too adult for kids games" side of the fence. Being a fan of turn-based combat and RPGs I always thought that the gameplay would appeal to me, but worried that the childish trappings of the setting would subtract from my enjoyment.
I want to make it abundantly clear upfront that I am very glad I took the plunge with Pokemon Y. I still have reservations about playing a "kids' game" – to the point I was genuinely too embarrassed to take my 3DS out of my bag and start playing on the tube – but I was correct to think I would like the (albeit slightly unchallenging) combat and I am fairly addicted to the prospect of attempting to "catch 'em all."
However, I am seriously confused about a number of Pokemon matters. Some matters of game design and some just in a complete absence of information that seems to (wrongly) assume this isn't my first Pokemon rodeo.
Some questions I want an answer just to satisfy my curiosity, some I want answered so I know how to play the game better, some are silly and some are borderline troll traps. So, try not to take it too seriously, but also note that whoever answers the most questions to my satisfaction (which may be sated by correctness or comedic value depending on mood) will win themselves a £20 Nintendo e-shop voucher.
• Pokemonday
What the hell is a Pokemon? Is it a pet, a creature, a wild animal, a friend, an equal, a slave? I fought a Pokemon yesterday that was a sword. YTF? I have heard someone say it is a "Pocket Monster", but was that considered in the original Japanese or is it just a convenient possible answer? Is the Japanese for Pokemon something other than "Pokemon"? From a health and safety perspective, is a pocket really a safe, protective environment for children to be raising monsters in?
• Eating Out
What do the people of Pokemon-land eat? Do Pokemon eat other Pokemon? Is a grass Pokemon vegetarian? i.e. is eating one a vegetarian dish and does it only eat other vegetables – in which case does that technically make it a cannibal? I went to a restaurant and was served Pokemon battles. How the hell does that work?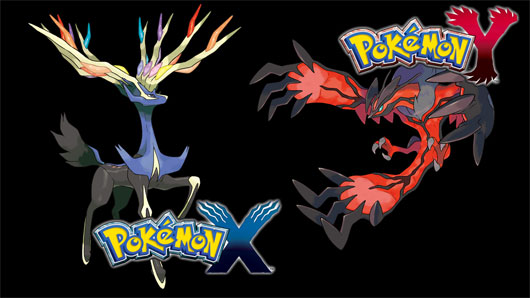 • Poking the World
What is the actual name of Pokemon-land? Can no one draw accurate maps of towns in Pokemon-land? Why are adults happy to let their young children wonder around a land full of wild monsters? Do the gardeners in the world not know how to cut long grass? Do lawnmowers exist? Why don't Poke-Centers charge money for refreshing your Pokemon when they have a monopoly on the Pokemon recharging industry? Are they happy just making all their money on Pokeballs and potions?
• Playing With My Pokemon 
What happens when you stop a Pokemon evolving? Will it still level up? Should I be making sure I have one main Pokemon who is ahead of the curve or is it best to have a balanced team of everyone at similar levels? It seems really difficult to make use of a Pokemon that is a significantly lower level than your other Pokemon, is there any way to level up without using it in combat? Why does a Pokemon faint when physically assaulted? What is a TM power and where do they come into the equation?
Why does evolving a Pokemon seem to make it look even stupider and more childish? My Fennekin now looks like it is wearing a dress and my Ivysaur looks like it had an unfortunate flower arranging run in with Poison Ivy.
• Pokewrong
Are the controls when not battling deliberately terrible? Why do I have to steer myself into a conversation as if I was a long boat on ice skates?
Is it acceptable for an adult male in his mid-thirties to be playing this in public?
(A) No, grow up.
(B) Yes, don't let it get to you.
(C) No, you're now on the Pokeregister
(D) Surely you're getting too old for this ****.
How many people are nerd raging about my refusal to use the accent in the word poke and pokemon? Does it annoy you more that I say it wrong in my head too?
• Y X?
How do I catch 'em all, is this technically feasible? What is the difference between the two versions of X and Y? Is there some common Pokemon or are all unique to each version? Are there people that buy both versions or is it just a matter of finding someone to trade with?
• Pokemon and on and on
That is the end of the questions I can recall, at least for now – but I don't want others who may be in my position to be left feeling trapped and alone inside their pokeballs. So please feel free to add your own questions to this list – genuine or amusing – and I will count answers to other people's questions as equal to answering any of mine.
Terms and Conditions for contest
I will keep this open for at least one week from the date of it being posted, but may keep it open for longer if still active. You must be a forum member for a valid entry, but can join when answering. The e-shop voucher will be provided in code form and can be sent out to you via email or PM on the BRB forums. All other standard BRB contest terms and conditions apply and can be read here.
Tags: Pokemoan, Pokemon, Pokemon XY