With the recent announcements that Ivory Towers' The Crew and Evolution Studios' PS4-exclusive DriveClub have been delayed until next year, EA must now be rubbing their hands with glee. With a relatively crowded market for racing games thinning out considerably and the only other major rival being Turn10's Xbox One-exclusive Forza Motorsport 5, the path to success has been made clear for Ghost Games' Need For Speed: Rivals – now they just need to deliver.
• Developer: Ghost Games, Criterion Games
• Publisher: Electronic Arts
• Reviewed on: PC
• Also Available On: PlayStation 4, PlayStation 3, Xbox 360, Xbox One
• Release Date: 15 November 2013 (PlayStation 4 – US), 19 November 2013 (PC, PlayStation 3, Xbox 360), 22 November 2013 (Xbox One), 29 November 2013 (PlayStation 4 – EU)
EA has rebooted the Need for Speed series numerous times since its inception. It has never been known for its realistic handling or precisely modeled cars. On the scale of arcade racer to driving simulator, it is far closer to Ridge Racer than Gran Turismo. Regardless, it has always found a captive audience with arcade racing fans – who appreciate the fast cars, colourful locations and sheer sense of speed in the game.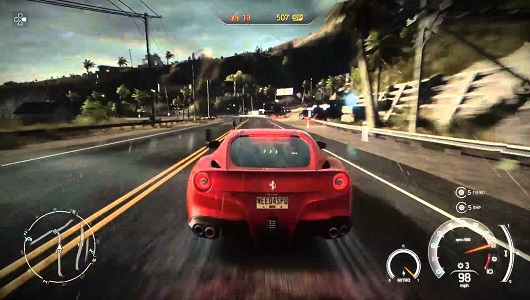 The game was available on PC hardware, with DualShock 4 controllers and PS4 target specs. Waiting in line, I saw a number of these stations crash back to Windows 7 screens. I will admit it was disconcerting to see the game wasn't running on the console itself (like most other demos at Eurogamer Expo). Once I got to play it, my worries were abated, at least temporarily.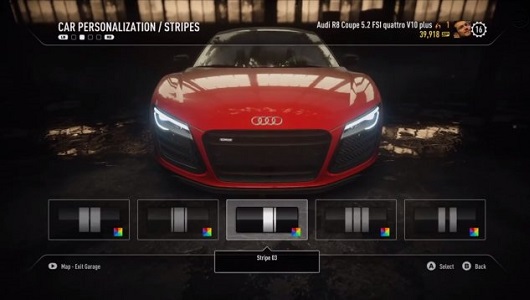 While not completely abandoning Criterion Games recent improvements to the formula, Ghost Games seem to have tinkered with the formula. The handling felt familiar when my session started however as I progressed further and further into the game's massive environment, I noticed some anomalies. Firstly, my car's weight seemed off. I wasn't able to effectively judge how much pressure I needed to apply on my brakes easily, or how much to move the analog sticks. I began to swerve more than I would have expected. This may be something to just get used to but the slightest movement almost had me doing 180 degree turns.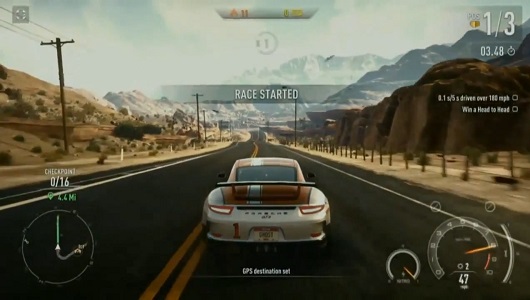 It was also disconcerting that environment destructibility seemed to be a toss of the coin – driving through some barriers maintained my speed as debris rained down around me. Other times, seemingly innocuous environmental details ended up flipping me over as I drove over them. Other than that though, the map was quite enjoyable to roam around and there was certainly plenty to see.
Unfortunately, I wasn't blown away by the visuals. There was none of the same wow-factor that other games had displayed, but straddling the generational divide was always going to put strain on the development team. Just to be clear, it did not look bad – but if you are looking to show off your new next-gen console to your friends, I would choose Killzone: Shadow Fall if I were you.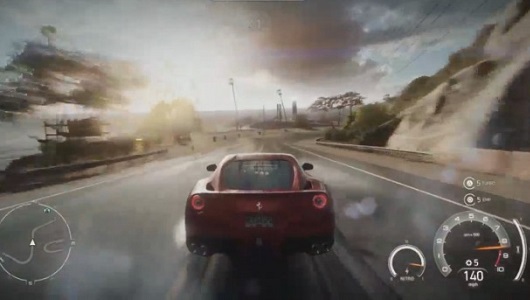 The game mode I got to play was a free-roam, pursuit challenge. I was assigned a police car and began my patrol. Before I had the chance to find a Dunkin' Donuts, I spotted a fellow attendee racing away to his heart's content. I began my pursuit and quickly realised I had some tools at my disposal. As well as the ability to shunt, I was able to deploy stingers to wreck tyres. I am sure there were more weapons available but the demo was short – and I was crap.
After about 10 minutes, I had taken down only two other racers – I won't admit how many got away. But overall I enjoyed my time with the game. If they can fix some of the handling and physics, there are enough fun elements here for Need for Speed: Rivals to provide a viable alternative to Forza.
Official Game Site
Tags: Criterion Games, Electronic Arts, Ghost Games, Need for Speed: Rivals, PC, PlayStation 3, PlayStation 4, Xbox 360, Xbox One