With the Xbox One launch line up featuring multiple racing, driving and sports games; it's a good job the Dead Rising franchise returns as a console exclusive to provide some zombie slaying action. While any zombie survival title could have sufficed, Dead Rising 3 crams in so many of the shuffling undead that there's barely any room to swing a sledgehammer, which is actually a good thing.
• Developer: Capcom Vancouver
• Publisher: Microsoft Studios
• Reviewed on: Xbox One
• Release Date: November 22nd 2013
On the show floor at Eurogamer Expo was a 10 minute demo of Dead Rising 3, in which you're essentially given free roam of a few city blocks from one of the four regions of the game world, filled with weapons, vehicles and zombies to play with. The first thing I noticed, was the sheer scale of what was in front of me. In previous Dead Rising games, you might be able to get around a hundred zombies on screen at once, a few weapons in convenient locations and maybe a vehicle. Dead Rising 3 ups the ante in every aspect thanks to the added grunt of the Xbox One's hardware. There are generally zombie hordes in the hundreds, closing in on the thousands, all on screen and can be clearly seen as individuals. While they can be slightly spread out at times, they're more then likely to be bunched up in fairly large groups, making it easier to maximize your killing efficiency. Weapons of all manner, and more vehicles than you could possibly need.
One criticism of previous Dead Rising titles has been that the pace and flow of gameplay always seemed a bit sluggish. Through the 10 minutes of open world game play I had, it definitely feels that this was something on Capcom's mind when developing the next-gen title. Gone is the necessity of cycling through weapons, health items and other pickups that you may have in your inventory. In addition to it is a weapons wheel that serves a dual purpose. While it allows you quick access to equip the weapon or item you desire, you can also combine items into more devastating weapons on the fly, providing you have the two items required within your inventory. So there's no longer a need to run to work benches in order to create them, only to use up the limited usage of your new weapons battling back to the spot you were.
The insanity of the combined weapons definitely hasn't lost it's spark though. Pre-loaded in the weapon wheel for my amusement were the sledgesaw that has been seen in previous trailers, an electrified sledge hammer, and my personal favourite in the form of Jazz Hands, which were multiple machine guns attached to gloves. While wielding these weapons provides moderate entertainment in smashing, shocking and shooting the walking corpses, their special abilities add increased hilarity. The Jazz Hands special move for example, has protagonist Nick Ramos spin on the spot releasing a hail of bullets.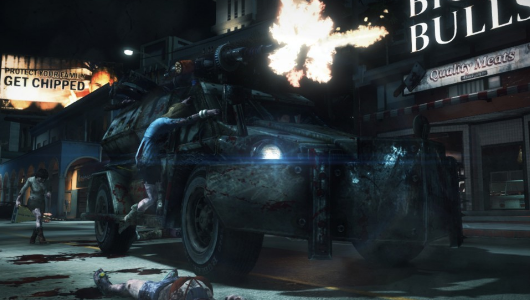 The combinations don't end there though. One of the big features improved and heavily relied upon in Dead Rising 3 is the vehicles, so adding combinations to them seemed like the elephant in the room. Unlike the limited combinations in Dead Rising 2 which focused mainly on the dirt bike, Dead Rising 3 allows to combine two vehicles together on the fly in a similar way to the weapons. Just park two vehicles that can combine close to each other, and as you walk up to them the two should flash. With a couple of button presses – and what I can assume is a lot of welding – the two vehicles become one rolling death machine. Combining an ambulance with a construction vehicle created an electrified battle wagon in a flash. Each combo vehicle also comes with a weapon for use to maximize your killing potential.
After the 10 minutes were up and close to 2,000 zombies slain, I felt satisfied by my time with Dead Rising 3. While the time I had with it didn't give me the impression of a huge evolution for the series, it definitely played well enough to say that it's a decent step up, and time will tell if the darker story Capcom have hinted at can provide more reasons to pick this up on day one.
Official Game Site
Tags: Dead Rising 3, EGX, Eurogamer Expo, Xbox One