With crushing inevitability, the world keeps turning, Tim keeps pronouncing 'infinite' strangely and new instalments of the Call of Duty franchise keep being released. This time however, the developers have completely updated the multiplayer, added new systems to promote team play and co-operation and more than likely, none of these changes will make a blind bit of difference in the grand scheme of things – another inevitability. If I sound jaded, it may be because the Call of Duty series has become jading. I understand of course that, for many, it is the opiate of the (gaming) people. However, over the course of yearly updates that we keep on being assured will add something new to the formula; I can't help but be sceptical.
• Developer: Infinity Ward, Treyarch (Wii U version)
• Publisher: Activision
• Reviewed on: Xbox One
• Also Available On: PC, PlayStation 3, PlayStation 4, Wii U, Xbox 360
• Release Date: 5th November 2013 (PC, PlayStation 3, Wii U, Xbox 360), 15th November 2013 (PlayStation 4 – US), 22nd November 2013 (Xbox One), 29th November 2013 (PlayStation 4 – EU)
Perhaps nothing new needs to be added – the Call of Duty series is still the biggest gaming franchise around. The sheer length of the queues, as well as the enthusiasm of the fans in them, was almost infectious. Said fans had the opportunity to play a number of game types, including the recently announced Blitz and Cranked modes. Blitz requires players from each team to make it to the enemies' zone – which earns their team a point and teleports them back to their zone to start again. Cranked seems to be an homage to the Crank movie series. In this mode, you become quicker and more agile the more kills you rack up. Unfortunately, you also get a timer after each kill. If you don't drop an enemy before it runs out, you blow up – I'd like to see Jason Statham do that.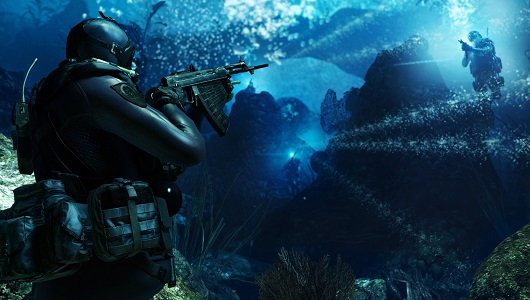 Also on display were the regular game types of Domination and Team Deathmatch in 6 on 6 arrangements. This was actually the first game I played with the new Xbox One controller and the loose sticks and flat shoulder buttons were initially distracting. Just like riding a bike (though a significantly more powerful one), I quickly got into the swing of things. Even though we were all sitting right next to each other, team play and communication was at its usual low in the game. Maybe if I was with other BRB alumni, it would have been different.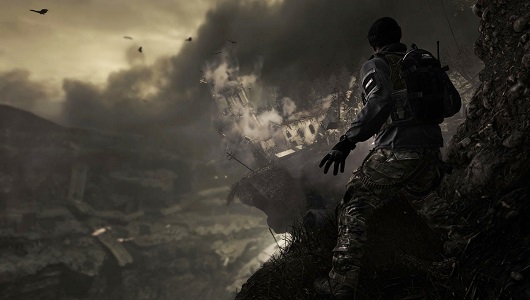 Gameplay-wise, Ghosts does seem to be just as fast-paced as its predecessors. The smooth 60FPS was like a familiar blanket of comfort, though the other graphical aspects of the game didn't exactly blow me away. While a crowded show floor is never ideal for this, the sound was disappointing – especially as the next game on my list was Battlefield 4 and that wiped the floor with Ghosts in the audio department.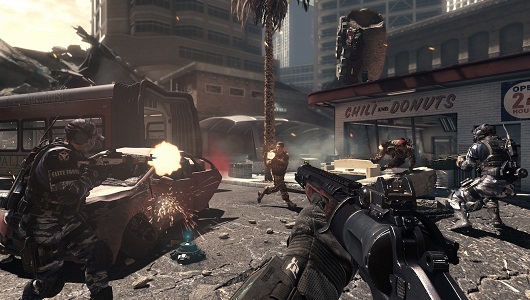 There were the regular five classes available and I swapped between them when possible so that I could try them all out. There were also a few additional weapons on offer with a limited number of attachments and perks. Like with every Call of Duty game before it. I quickly realised that the sniper class was not for me (not that the others were much better). The game wasn't particularly well-balanced yet, as shotguns seemed to be far too powerful, and therefore, prevalent. This was apparently the same build that was available at gamescom so the build will have gone through a lot of changes since that time.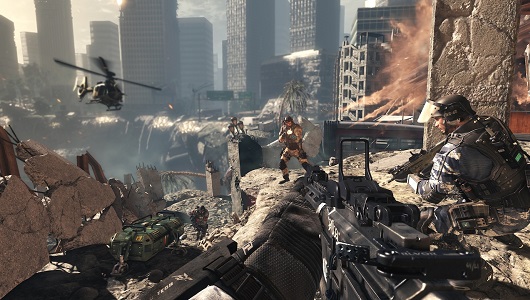 The overall experience was very familiar. This will be good news for COD fans but bad news for anyone else who may have hoped for more innovation and change. Based on the amount of people I saw eyeing up the contents of the Prestige Edition, including the wearable 1080p camera, and the long queue at the pre-order counter after my play session, my concerns are most certainly in the minority.
Official Game Site
Tags: Activision, Call of Duty: Ghosts, Infinity Ward, Jason Statham, PC, PlayStation 3, PlayStation 4, Wii U, Xbox 360, Xbox One