After the tyre screeching success of this past weekend's Faster Than Life gaming section at the Scottish Car Show, the Big Red Barrel team will be celebrating in the fitting style of video games and alcohol at the FTL After Party – hosted by the awesome Loading Bar this Saturday.
Not only will you get a chance to get hands-on with a number of the games that were shown in Scotland but you will also have the chance to buy some of the BRB merchandise that was available for the first time ever at the show too – we will also be using the opportunity to raise awareness of Extra Life and to raise some money for Special Effect.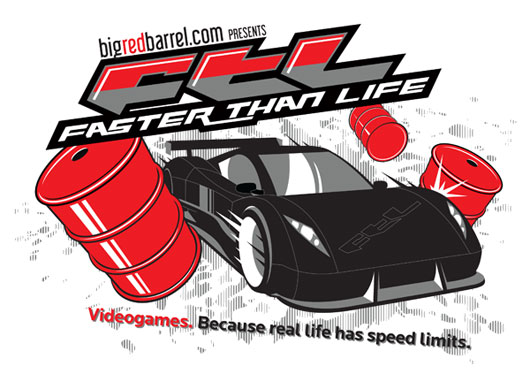 • Anyone that makes ANY donation to Special Effect on the night will get a free keyring from the Scottish Car Show.
• Faster Than Life T-shirts will be on sale for £10 and £1 of every T-shirt sold on the night, or in future at Loading generally, will be donated to Special Effect. (N.B. Cash sales only please.)
• You will also be able to purchase Faster Than Life Fudge delivered fresh from Glasgow this week.
The party kicks off at 8pm and the fastest five people to buy a T-shirt and fudge combo — for the not so princely sum of £12 — will also get a free Faster Than Life Shooter Cocktail – with £2 going to Special Effect.
We will also have other prizes available on the night, including games, T-shirts and more!
DAY: Saturday 27th July
TIME: 8pm-Late
MADD
53 Rupert Street
Soho
London
W1D 7PH
UK
Big Thanks: Grateful for Loading to giving us a venue that allows us to have an after party where we can be joined by our staff, forum members and friends who couldn't make it to Scotland last weekend – so no more excuses! Thanks to Jimmy from Loading, John from MADD, Joyce of The Wee Fudge Company, Gordon from Replay Events, Sandy & Alice from Sony and Lee & Adrian from Codemasters.
Tags: After Party, BRB Events, BRBFTL, Faster Than Life, FTL, Loading Bar