On Monday I (at long last) received my Ouya. People may be familiar with Kickstarter, but for me this was the first crowd-funding project I had contributed to and it lead to the slightly disconcerting feeling of paying for my Ouya months before I received the console itself. This in conjunction with making my purchase in absence of having physically handled or even seen the console with my own eyes, has made for a unique, odd and not always entirely pleasurable retail experience — one that we have documented at some length with weekly "Ouya updates" on the BRBUK podcast. But now the (not so) patient waiting is over and the Ouya has landed.
While I have owned the system for less than a week, I thought I would make an account of some of my initial thoughts and impressions of the hardware and User Interface.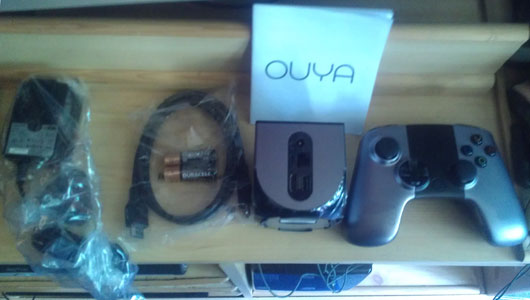 Opening the box, the first most strikingly obvious factor is just how small and sleek the Ouya console is. Small enough to awkwardly fit in the palm of your hand, the elongated cube stylishly stands proud with the on button seated on the top of the console, allowing the front and side of the machine to remain smooth and featureless. The rear side of the console has all of the ports, with a power input, USB, Ethernet and an HDMI port for easy connection to TV's — unless like me you reached your HDMI Hub input limit two HDMI's ago!
Sat neatly next to the console in the Ouya black box packaging is the Ouya controller. My expectations may have been suitably lowered by listening to early negative reports, but overall I like the Ouya controller. The triggers and bumpers feel very springy and a bit too cheap, but generally work okay and the face buttons and analog sticks are better than I expected. The pad takes two AA batteries that are mounted in either side of the front of the controller, that can be accessed by the removal of the two halves of the face plate. It isn't always clear if this is sat back in the correct position, but once it is safely back in place I have not experienced any of the issues that were complained about in earlier reports (i.e. of the face plates obscuring or making it difficult to use any of the buttons) – I am unsure if this is down to luck of the draw or whether I may have received a controller that had been amended since the original model that was widely complained about. It is less than perfect, but not as bad as I had heard reported.
If you do have an issue with the controller or need to play multiplayer, then a wired Xbox 360 controller can be simply plugged into the USB port at the rear of the machine and works fine with no additional messing with drivers or dongles or any other nonsense. PS3 controllers can also be used but I have not yet had need to do so myself. The only element that will be missing in comparison to using an Ouya pad is the touch pad – but aside from being used as a fairly redundant mouse pointer, I have only seen it implemented well in one game so far and that was to scratch some 80's scratch'n'sniff styled stickers in Saturday Morning RPG. Even though the same can be said of the Ouya controller, it is up to the software developers to ensure that the controller mapping is well thought out and implemented – that is something we are more used to being standardised on a console than is traditionally the case with most Android software and this is one area where the Ouya could do with definite improvements being made as it makes the move into the crowded console TV lounge.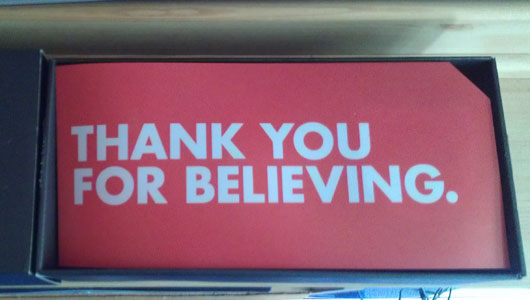 Additionally with some of the games and software, you can use an Android smartphone or tablet as a touchscreen controller or bluetooth keyboard. It works well for the simple quiz game available as you only need to buzz in with one of four possible answers, but seems like too much of a disadvantage when tasked with trying to mimic a controller. It does mean that I have a keyboard to hand much more easily than I did with my overpriced and underused Xbox 360 Chatpad. The only thing that I find really odd is that the Ouya controller does not work in the manner I have become accustomed to in this console generation in terms of powering on and off with the system. It can be used to bring the console back to life from going into standby or power saving mode and the controller will turn off if idle for too long, but it can not be used to power up the system when fully off and, most oddly of all, you will need to remember to turn the controller off before standing up to turn off the console as none of this happens automatically.
It terms of setting up the machine, it could not be a more simple process – which is handy for an idiot such as myself. Once power and HDMI leads are plugged in you are pretty much ready to go, save for setting up your Ouya account and inputting your Wifi details – both of which were simple and straight forward. So far I have done all my downloading via the Wifi connection and even accounting for the fact they are mostly very small games, the Ouya still seems a degree faster than my phone or PS3 is at downloading data.
The storefront is sparse and it would benefit from having clearer labeling, or separate categories to more clearly define which games are demos, which are free, which have free parts, and also when payments need to be made. This is something that will hopefully come in time and as the amount of currently limited software increases. I will have another early impressions article focusing on the software in an upcoming article when I have had a bit more time to play through some of the games in greater depth.
I will also be heading down to Loading Bar in Soho, London on Saturday 1st June from around 6pm. Pop in have a drink and see the Ouya in action for yourself.
Loading
MADD
53 Rupert Street
Soho
London
W1D 7PH
UK
Tags: Android, BRBUK, console, kickstarter, ouya