The Colin McRae Rally and TOCA Touring Car Championship series provided this particular gamer with hours of enjoyment. Micro Machines V3 also become an instant classic in our household, with my siblings and I spending hours playing four-player races on two game pads  The developer behind each of these titles was Codemasters. They have a long and prestigious legacy in the video game industry as purveyors of some of the finest racing simulations ever created. I recently got the chance to go hands-on with both the single- and multiplayer portions of their latest production and they are aiming to add GRID 2 to the ranks of the previously mentioned classics.
• Developer: Codemasters Southam
• Publisher: Codemasters, Namco Bandai Games
• Reviewed on: Xbox 360
• Also Available On: PlayStation 3, PC
• Release Date: 28 May (US) / 31 May (Europe) >>
The event took place at the Bob Forstner Showroom on Park Lane in London.  Initially, we played the single player section of the game. The brief introduction explained that Patrick Callahan, an entrepreneur and investor, has decided to find the greatest race driver across as many disciplines as possible. To achieve this, he has created the UFC of racing competitions, the World Series Racing championship. You take on the role of an up-and-coming driver who catches his attention and your goal, if it was not plainly obvious by now, is to win the championship and prove you are the greatest competitor in the racing world.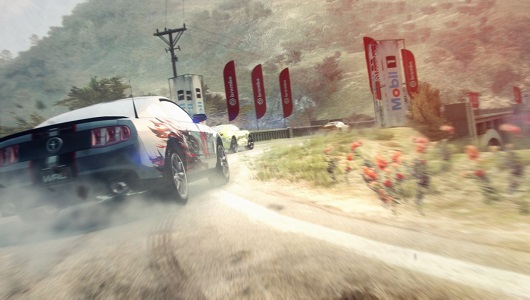 As with any driving title, the experience lives or dies with its handling model. While there is a vast spectrum of games in the racing genre, from arcade to strict simulation, the watchword common to all of them is 'fun'. I am pleased to report that based on my first hour with the game, Codemasters have nailed it yet again. For GRID 2, they have created a new model called 'TrueFeel' and as the name suggests, they are striving for realism. Say goodbye to all of the assists you may have used previously – the game will not brake for you, turn for you or help with your throttle control. Instead, you are given all of the feedback you need either through the controller (using the rumble to good effect) or via the car's momentum. There is a genuine sense of weight to the cars. This allows you to know precisely when you are about to over-steer and, as there are no assists getting in the way, you are more easily able to control the back end into a drift. Unlike arcade titles like Ridge Racer, you genuinely have to work hard to pull off these moves, making the sense of achievement more palpable.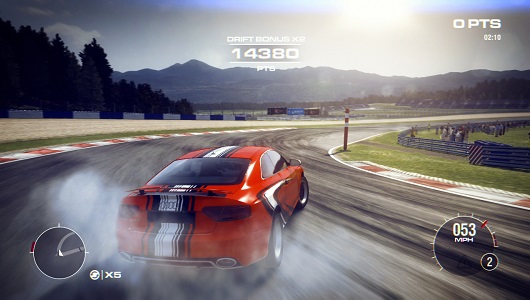 Each car in the game falls into one of four tiers and as you would expect, each tier is generally differentiated by overall performance. While Tier 1 contains the latest BMW M3, Tier 4 houses the like of latest Paganis. Each vehicle feels different to drive. American muscle cars are beefy and stick rigidly to the road. On the other hand, the hyper cars in the game feel wispy and delicate, requiring a deft touch. The courses in the game are spread into three categories – street, road and track. The first hour of the single player introduces you to each of these and there are notable differences. A street circuit may feature footpaths, curbs or bollards that can dramatically impact your race line if collided with. A track, however, is far smoother but the gravel traps are easy to get into and difficult to leave.
One of the more interesting features on display was the 'LiveRoutes' system. Imagine if that right turn you passed in your previously lap was no longer there; instead, there was a sharp left hairpin – you would probably end up in the tire barrier like I did. This is what 'LiveRoutes' achieves. The road in front of you is dynamically changed so you can never 'know' the track fully. I got the impression while playing this mode, that the track was made up like a complicated train set. This keeps you on your toes and forces you to choose your racing line very carefully.
The multiplayer portion of the game has also benefited from these single player improvements. As well as also featuring the point-to-point, drifting and checkpoint races, 'LiveRoutes' also makes its way into the online section. The game pits you against up to 11 other competitors online and uses the 'RaceNet' system to keep track of your progress. There will be weekly global challenges as well as personal goals to keep you developing your online career. 'RaceNet' will also be available to access on the web and through smartphone apps. Thankfully, there is also a two player, split-screen mode – a feature that is becoming less and less common.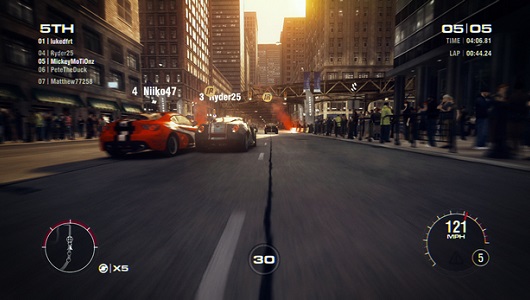 Codemasters have not rested on their laurels. Whether it is refining their EGO game engine to version 3.0, or introducing new features and online components, it is clear they have been hard at work to improve the experience they created in Race Driver: Grid. While I am still not happy with their decision to get rid of the cockpit view for GRID 2, there is enough here to warrant excitement in their new title. So.. you know.. be excited!
Official Game Site
Tags: Codemasters, Codemasters Southam, Colin McRae Rally, GRID 2, Micro Machines V3, Namco Bandai Games, PC, PlayStation 3, Race Driver: Grid, Racing, TOCA Touring Car Championship, Xbox 360