When EA Mobile released iOS racing sim Real Racing 3 around a month ago, the collective tone of the voice of the internet was one of anger and cynicism. Here was a title previously known for its upfront price tag making the jump to free-to-play, which as we all know is the Worst Thing to Happen to Gaming since Xbox 360s started coming with headsets.
What had previously been a no-fuss racing game became littered with premium currency, in-app purchases and waiting times for buying cars and upgrades, along with the unforgivable crime of car servicing. Younger iOS gamers could, for the first time ever, experience the thrill of going down to Kwik Fit for a tyre change and waiting half an hour for the procedure to finish. Drinking sludgy vending machine coffee to completely replicate the experience was optional.
A month down the line, I still have Real Racing 3 installed on my iPad. I still play it on an almost daily basis. I have spent the grand total of £2.99 in the process – the same price I paid for Real Racing 2. Quite honestly, I think that the Firemonkeys have done the impossible – they have justified a minimum spend inside a free-to-play game.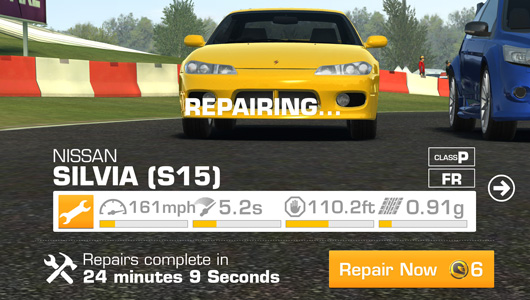 RR3's model works because it gives you just the right taste of what the game has to offer for a few precious hours, incentivising you to make the jump into premium territory when the time comes. Upon starting the game you are provided with enough money to buy your first car, with which you can then win a good number of races and a generous amount of price money. You can then use this to upgrade your current car and, in time, buy a new car to go along with it. With that new car you can enter more events, and so on.
Eventually, you will hit a wall. That much is inevitable. But up to that point Real Racing 3 gives the absolute impression of making progress by generating a huge number of unique events to race in – more than 900, going by the App Store blurb – with each event giving out a large amount of prize money. I have never had to re-win a race I have already won for the sake of earning more money – and so the concept of 'grinding is camouflaged by the fact that every race you win is absolutely unique.
When I spent £2.99 on R$140,000, the currency used to buy and upgrade cars, I had three cars in my garage belonging to a single category. As you progress through a category, opponents become expectedly tougher until you finally admit that you need the best car of the category in order to win. I used my new currency to buy the fourth car and some upgrades, opting to spend a little of the other currency, Gold, to speed up the process and get me back into the game as quickly as possible. It is the only time I have needed to do this.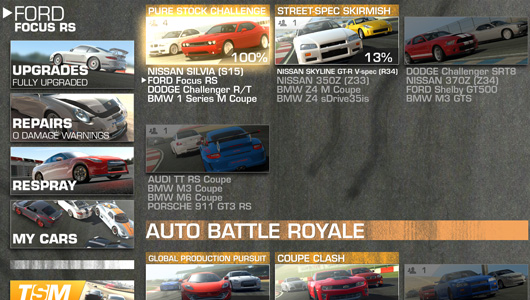 After breaking through the barrier with a spend equivalent to a copy of Real Racing 2, things take a delightful turn. Real Racing 3's events are fantastic not simply because they camouflage the grinding process but because they re-use cars over and over, spread across different categories. This means some events are ready for you to tear up in one car and then another can be taken on adequately whilst your other car is repairing or being upgraded.
It's a back-and-forth, ping-pong type process which eventually becomes the norm – bouncing from car to car, winning each category piece by piece without ever needing to spend another penny. You're going nowhere fast, but with so many events to complete and a very clear progress indicator being given all the way, there is absolutely no need to rush to buy the fastest cars if you are the completionist the game wants you to be.
I will concede that, as I rack up the category wins and run out of uses for the cars I have, I will probably have to dip back into my wallet in order to afford a faster car. The upper-range supercars stretch into the millions – or the double-figure £ spends in IAP – and while I accept that it's something of an inevitability, I probably won't be angry since the game will have provided, by that point, at least 10 hours of enjoyment since I paid that first lot of £2.99.
In creating Real Racing 3, the Firemonkeys have been intelligent in making free-to-play work. Rather than bludgeon us with wait times which put us off, they give us a little of what we need, let us test the waters, then continuously reward effort and time with just the right amount of money needed to continue. When we hit the inevitable wall, it doesn't feel like much to ask to make that initial real investment in the game – and then it continues to give. And that's what free-to-play should do: make us feel happy to spend our money rather than wrench it forcefully out of our unwanting hands.
Tags: EA, Firemonkeys, free-to-play, iOS, Real Racing 3