Big Red Barrel were invited to host an event to mark International Table Top on Saturday March 30th 2013, as part of Loading Bar, London Soho's launch weekend — which was also featuring a Bioshock Infinite event with screens showing the game, multiple consoles with the game playing and special Devil's Kiss and Possession cocktails available.
But for our purposes, we were here for board and card games, with a selection already available in the bar and a selection of new and classic games that we bought along especially for the evening including; Catan, Ticket To Ride, King of Tokyo, Discworld: Ankh-Morpork, Jungle Speed, Gears of War and more!
Here's how we got on. To the tables!
All the board games were kindly supplied by Esdevium Games and will be staying, available free to play at Loading Bar from now on, feel free to pop down and try them out.
ADDRESS:
MADD
53 Rupert Street
Soho
London
W1D 7PH
UK
Contest:
The first person to find Jimmy (or John) behind the bar and say the secret phrase "Is this where the Jon Brady booook signing is happening?" can claim a prize of an exclusive Big Red Barrel Skin sticker kit for an Xbox 360 Slim and/or iPhone 4. (You are welcome to take both if you can use them, if not leave one for the next person 😉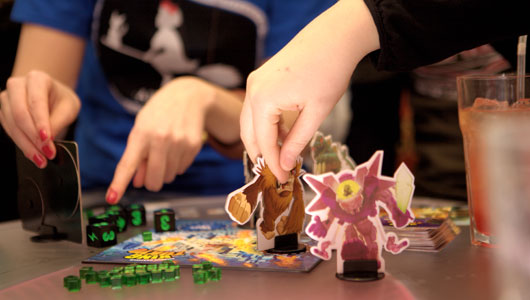 Thanks
Big thanks for the kindly supplied prizes to;
Diablo Skinz
, Blizzard, EA Games, Codemasters, SEGA and Capcom. Thanks to tabletopday.com for use of the International Table Top Day logo. And a BIG thanks to Will Edgecombe (@willedgecom_be) for the excellent photos.
To everyone that asked when the next event will be, I'll say judging by how successful and enjoyable this event was, hopefully soon! Thanks to everyone that attended and if not, see you next time!
Tags: board games, BRB, Event