It's time to put Settlers of Catan back in the cupboard – because Kingdom Builder is a perfect game for novices and veterans alike.
• Designer: Donald X. Vaccarino
• Publisher: Queen Games
• Number of Players: 2-4
• Playtime: 45 minutes
• Release Date: Available Now

I love Kingdom Builder. From its classy production values and replay-friendly modular components to the gentle competitiveness of its gameplay that ensures no player feels short-changed, just about every aspect of this game has made this a title that my gaming group will be pulling out at least once a week for the foreseeable future.
Each game involves the combining of four different hex-filled landscape tiles, with each featuring a range of terrain and different types of buildings; to add to the mix, three point-scoring conditions are also dealt out from a deck of victory cards – once you factor all that in, you can already see just how many potential combinations of game set-up there are.
Players take a pile of wooden houses each and every turn their job is to draw a card that tells them what type of terrain they must build on and then place three houses on the board, preferably adjacent to any houses they've placed previously. Build a house next to one of the buildings dotted around the board and you'll also get a bonus move permanently added to your turn. These range from building an extra house on the edge of the board to moving an existing one onto a water tile to create a harbour. Once a player has placed their final house, the game ends and points awarded based on the three initial victory cards which can include linking buildings with 'trade routes' of houses, or building next to water, or mountains, or on every horizontal line on the board.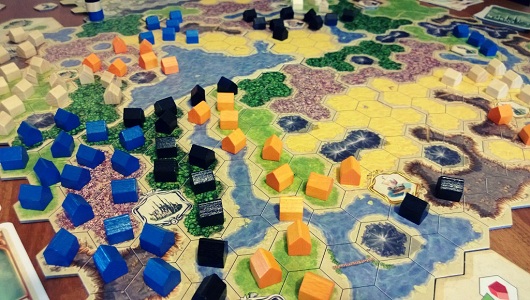 Whilst anybody could understand those rules, there's real and truly nuanced skill that revolves around how you wield them to your advantage and how you change up your strategy based on the victory conditions. Players will need to make early headway towards buildings that give useful bonuses whilst blocking other players from doing the same. It's a game about managing your options, ensuring that you can always do something useful regardless of the terrain card you must build on each turn, all the while keeping an eye on your opponent's strategies – cutting short their high scoring manoeuvres or protecting yourself from a similar move. Empires twist and develop around each other until the board is filled with looping coastal towns or dense metropolises, the final state of each game is a unique and satisfying signature for the tale that unfolded in the preceding half an hour.
Games last around 30 to 40 minutes with very little downtime for players who will be relentlessly studying the evolution of the board in anticipation of their next move. Matches are always closely fought and the game supports those player 'flourishes' that allow them to turn their fortunes around with elegant combinations of bonus moves.
I played the game a number of times with varying combinations of players and, whilst four players is easily where Kingdom Builder shines, three is also enjoyable. Two players makes for a slightly more solitaire game as the size of the maps mean there is little need or opportunity to interfere with another's strategy – here the challenge and skill comes from optimizing your positioning as much as possible – but that almost suits the more intimate nature of a duel.
Easy to pick up and play
Deep Strategy
High Replayability
Slightly Abstract
The simplicity of Kingdom Builder makes it feel like a classic from a different era; it should be the one game you make your family play at Christmas and any fan of strategy would be sorely missing out if they didn't own this as soon as possible.
Review copy provided by Esdevium Games Ltd
Official Game Site