Or, Why The Games Industry Needs To Grow Up.
Why is it that, when it comes to video games, sex is still a taboo topic yet violence is widely accepted?
I first noticed this phenomenon back in my days of working for GAME. Parent would bring Game A up to the counter, with the intention of buying it for Child. I would calmly explain that Game A is rated 18+, and not suitable for Child due to the violence. Parent would usually offer some kind of terribly excuse along the lines of "Oh, well, he'll just end up playing it anyway" and buy Game A.
That is, of course, unless Game A is GTA or perhaps Saint's Row and I happened to mention that prostitutes were involved. Parent would then be shocked and horrified, and refuse to buy Game A for Child.
Why is this?
It's not just parents, either. Unless it's of the No Russian variety, it seems that gamers rarely bat an eyelid in regards to violence in their favourite past time. But, the moment we get something sexual, all eyes are upon it and we kind of freak out a little bit.
Take the Tomb Raider 'rape' debacle, for instance.
The scene itself shows Lara being slightly caressed on her hip by a man who's holding her captive. Then, she fights back and, if you complete the QTE correctly, she kills him. While presenting the scene, which is implied to show "close physical intimidation", the developer said that Lara would be a victim of rape.
Now, to say that this caused a bit of a kerfuffle would be an understatement.
In my opinion, what should have happened is that the developer should have said "Sorry, I didn't mean that!", we should have all watched the scene and gone "Well, nothing wrong there" and then gone about our business.
Instead, it spawned weeks of discussion. The scene itself shows nothing more than a slight caress and, I think, is successful in portraying Lara's predicament and motives without becoming crude or offensive.
And just look at some of the ways that sex is shown in video games.
In God Of War we have those cringe-worthy QTEs where the camera pans away and we get to look at some innuendo-filled scenery while some woman moans and groans in the background.
In Saint's Row we get to beat our enemies to death with giant purple dildos.
In Star Wars: The Old Republic, homosexual characters are relegated to their own private planet.
Splatterhouse featured buttplug chairs which could be used as weapons.
And you all know exactly what I mean by Hot Coffee.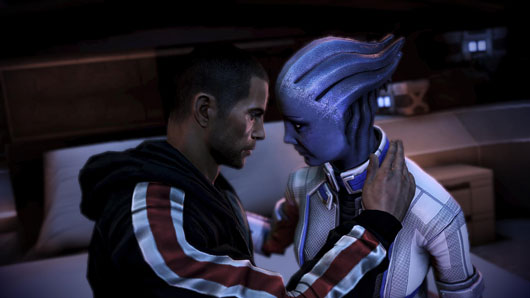 I think that the games industry's biggest problem is that it needs to grow up. Sex is used in games as either a joke or as another form of violence and when a negative story about it makes the news, things are blown entirely out of proportion. We're not used to seeing sex handled well or at all in games so, when it does appear, we sometimes don't know how to react to it.
Gaming is still a young medium, and it is still trying to find its feet and discover how to tell its stories. Developers and writers are still figuring out how best to handle difficult issues in their games and this will understandably lead to the odd slip-up.
This bring me back to my original point and might explain why parents (or Fox News) react the way they do. When they hear that there is sexual content in a game, they're likely to have heard of Hot Coffee or pornographic games from Japan instead of the games which are doing it correctly. Unfortunately, the violence is more prevalent and has been the focus of studies and debate so parents may feel far more informed.
As I said, there are developers out there who are handling sex in games correctly. Or, at least, to a greater degree than the rest. Despite the issues around Makeb, Bioware are applauded time and time again for creating touching scenes which focus on the relationships between characters, as well as their approach to gay and lesbian characters. Sure, sometimes these scenes may feel a little forced, but the approach and intent behind them is admirable.
Similarly, the scene in David Cage's Heavy Rain (SPOILERS AHEAD!) between Ethan and Madison was slammed for being awkwardly written, directed and acted, but it was a bold attempt at portraying sex in a realistic and mature way.
So, what am I trying to say here?
Hopefully, the more that sex is featured in games, the better it will become, as well as become more accepted and open to debate and rational discussion. That said, we should continue to challenge the levels of violence in games and not stop that just because we're used to seeing it. As I mentioned previously, video games are still young and I think that we need to allow them more time to mature, grow and develop.
Obviously, this is just my opinion, and I have made sweeping generalisations for brevity. I'll be more than happy to jump into a discussion with you all!
Tags: BioWare, eidos, god of war, heavy rain, Mass Effect, Saints Row 3, sex, splatterhouse, Star Wars: The Old Republic, Tomb Raider, Violence