This year's Magic The Gathering 2013 core set has me spending more money than a US Election campaign, for both real life and digital versions of cards. Yes, that's right, one of my favourite series of the last three years has been the Duels of The Planeswalker collection: a slick, quick and streamlined version of the real life trading card game.
• Developer: Stainless Games
• Publisher: Wizards of the Coast
• Reviewed on: Xbox 360
• Also Available On: PS3, iPad and Microsoft Windows
• Release Date: Available Now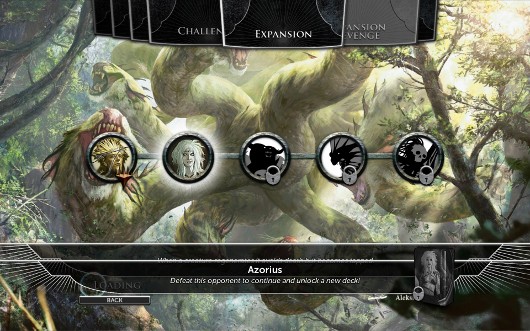 Magic The Gathering was the first Collectible Card Game (CCG) invented in 1991 by Richard Garfield and published back in 1993 by Wizards of the Coast. Also known as a Trading Card Game where players make 60-card decks themed on one or more of five colors: white, black, red, green and blue and use a mix of luck and strategy to win. It's had many iterations, expansions, themes, tweaks and game play mechanic updates over the years and has also developed an online game service that it launched in 2002 called Magic the Gathering Online (MTGO).
The Duels of The Planeswalkers series is a separate self contained online version of Magic The Gathering released on first on Steam (PC) in 2009 and then on consoles a year later. With gorgeous graphics and slicker game-play it's aimed primarily at new and intermediate players, automating a lot of the fiddly bits and arbitrary decision making found in MTGO or the CCG version, and uses set card decks that draw from the vast back catalogue of Wizards of The Coast.
Duels of The Planeswalkers is one of the most downloaded Xbox Live Arcade games ever and now in it's 3rd iteration colloquially known as Magic 2013.
Wizards of The Coast have recently released the first expansion DLC for Magic 2013, which adds:
Five more playable decks
Ten more campaign levels (five of which normal matches and the others part of the harder revenge campaign)
Five additional challenges (situation puzzle set piece scenarios that only give you limited resources to solve a situation)
Extra achievements and persona portraits to customise your playing character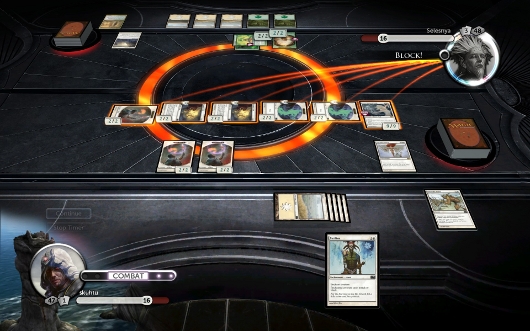 The five new decks correspond to a guild or house from the fairly recent Ravnica block: Azorius (blue/white), an enchantment based deck; Golgari (black/green), a graveyard based deck; Izzet (blue/red), a spellcasters' deck; Rakdos (black/red), a deck based around dealing massive damage; and Selesnya (green/white), a swarm deck. The new decks make for an exciting prelude to the new Return to Ravnica block that comes out later this year.
New decks are fun to play with
Good price point
No expanded Planechase
Makes you want to spend lots of money on Trading Cards…
Duels of The Planeswalkers 2013 is already a great game that has intrinsic replayability and, with this very reasonably-priced DLC, Wizards of The Coast and Stainless Games have really added value to the franchise with this release. If you're a fan of Duels 2013 then this DLC pack is highly recommended.
Review copy provided by Freeform Communications
Official Game Site