Cats love milk, but they also hate water. So, dear readers, what would you do when faced with a worldwide milk shortage? Yes, that's right, send cats underwater to mine for the glorious, nutritious and downright tasty white stuff. Now you may think that I've been on the strong cheese before bedtime, but I've actually been wiling away a highly pleasant couple of hours playing Aqua Kitty, one of the first titles out of the gate for the brand spanking new PlayStation Mobile platform. So is Aqua Kitty chock full of full-fat creamy goodness, or does it leave a sour taste in the mouth?
• Developer: Tikipod
• Publisher: Tikipod
• Reviewed on: PS Vita
• Also Available On: PlayStation Mobile certified devices
• Release Date: Available Now

Before I get too far into this review, there's something that I should declare in the interests of journalistic integrity. I think cats are frickin' awesome – I defy you to find anything that wouldn't be made more awesome by the inclusion of cats. So, unsurprisingly, a retro 16-bit side-scrolling shooter that involves cats is, in my opinion, off to a bloody good start.
Aqua Kitty is a truly great little game and, despite its diminutive stylings, is packed full of character. As I alluded to earlier, the basic set-up of the game is that the world is facing a milk shortage – and cats, being awesome, aren't going to take this lying down. So they do the only reasonable thing – set off on the high seas and mine deposits of milk under the sea floor. But – and there's always a but – nefarious shoals of mechanical fish are determined to stand in the kitties' way in their quest for milk. Presumably as an act of revenge for aeons of being terrorised by our feline friends.
The gameplay will be pretty familiar to anyone who has played Defender – Aqua Kitty is a side-scrolling shooter that takes place on a looping playfield and you, the player, are charged with defending the kitties that man a number of milk mining stations by blasting the attacking fish with your gun-equipped submarine. This all sounds pretty simple – and it is – but the game itself is fast paced, frenetic, fun and challenging. As you progress through the levels, the number of mines you need to defend and the number of maniacal mechanical fish ramp up, meaning that you're often on the back foot, scrabbling between mines to keep them pumping milky goodness. Thankfully, there's a varied range of power-ups to pimp your sub with, all of which feel wonderfully satisfying to use.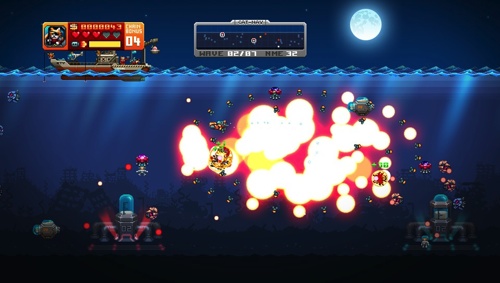 Aqua Kitty also looks and sounds an absolute treat – the retro, 16-bit stylings of the game look truly fantastic and have obviously been crafted with a great deal of care and attention. The game's music – which was put together by Electric Café – is a perfect accompaniment to the visuals, with a veritable smorgasbord  of catchy chiptune goodness  merrily burbling away as you obliterate hordes of mechanical fish. The controls are also delightfully simple – on the Vita, you move your sub with the analogue stick, L and R switch the orientation of your sub, X takes care of your standard fire and O unleashes your secondary fire – the rather awesomely named (and actually rather awesome) turbo laser. The simplicity of the controls is truly a breath of fresh air in this world of convoluted button mappings and complements the frantic gameplay perfectly. I should note, however, that I've only played Aqua Kitty on the Vita – and I'm not quite sure how well the controls would fare on a solely touchscreen device.
Wonderfully simple but truly addictive gameplay
Fantastic retro graphics and chiptune soundtrack
Sharp, responsive controls
Gameplay experience may vary on non-Vita devices
Aqua Kitty is a great game at a great price – and is one that suits the very nature of mobile gaming to a tee. You can have a real blast with this game whether you've got 5 minutes or multiple hours to spare – I just hope that Sony ups the number of 'PlayStation Certified' devices so that as many people as possible can enjoy this little gem of a game.
Review copy provided by Tikipod
Aqua Kitty – Official Game Site
Tags: Aqua Kitty, Cats, PlayStation Mobile, PS Vita, shooter, Tikipod