Magic the Gathering: Duels of the Planeswalkers 2013 (DoTP 2013 to its friends) is the third iteration of the Duels of the Planeswalker series. These games are slick and streamlined versions of the real life trading card game Magic: The Gathering by Wizards of the Coast. The original DoTP was released back in June 2009 and, although a little buggy, gained a strong following and quickly became one of the most downloaded XBLA titles of all time. This third installment, much like last years DoTP 2012, builds on that initial success by adding extra gameplay mechanics and different gameplay modes. This year adds Planeschase, which was released in card form back in September 2009.
• Developer: Stainless Games
• Publisher: Wizards of the Coast
• Reviewed on: PC
• Also Available On: Microsoft Windows, PlayStation 3, Xbox 360, iOS
• Release Date: Available Now

At first, the menu system is much the same, with large scrolling left and right panels giving you access to different options, such as Campaign, Multiplayer, Leaderboards, Deck Manager, Acheivements, Help & Options and Extras. A Player Status menu option has been added, which shows you an overview of your current status with regards to overall mana color preference based on your total gameplay time, the ability to change your avatar, your achievements you have unlocked and your rank in the world leaderboards. Deck Manager has also been enhanced. DoTP 2013 gives you slightly more control over your card choices and also presents you with good deck stats overview, which makes tweaking your deck to your own play style a lot easier.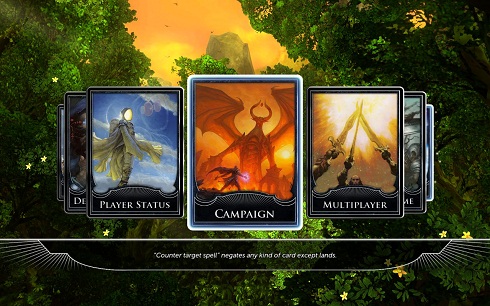 The single-player game can be played on three difficulty levels: Mage, Archmage and Planeswalker.  There are four main single-player modes: Campaign, Revenge (unlockable after you finish the Campaign run), Planechase (unlockable after a certain amount of victories in Campaign) and Challenges.
Campaign is divided into segments themed to different Card Blocks released in recent years in the real game (Ravinca, Innistrad, Alara, etc.). You play four battles in each, some of which are called "encounters" in which your opponent has a playing deck mechanics are construed to a specific idea. One such example is Dragon opponent in the Alara section where the deck is based entirely of dragon creatures. These deck can step outside the normal bounds of the Magic: the Gathering rules and can have several copies of the same card in them. The last battle in these segments is always a boss or Planeswalker opponent. As you play through Campaign and beat the various every increasing difficult bosses, you unlock different card decks and also unlock different cards to add to your existing pack. Each pack has 30 extra cards to add into you deck through the Deck Manager.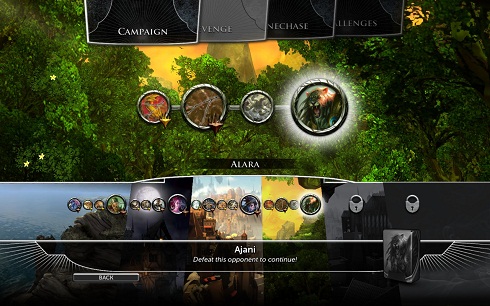 Revenge, unlocked after Campaign, is another run through similar to Campaign but on a harder difficulty level.  The opponents have extra cards in their decks, and the AI is much smarter.
Planechase, the new game mode to this version, pits you against three other players with not only your own deck but also a deck of oversized Planechase cards and a die with four blank sides, as well as a magic symbol and a chaos symbol on opposite faces. The Planechase card usually has two abilities: The first one comes into play when the card is revealed; the other is triggered by rolling the chaos symbol on the die. Rolling the magic symbol causes the next Planechase card to be played instead. The die is free to roll the first time each turn but costs increasing amounts of mana therein after.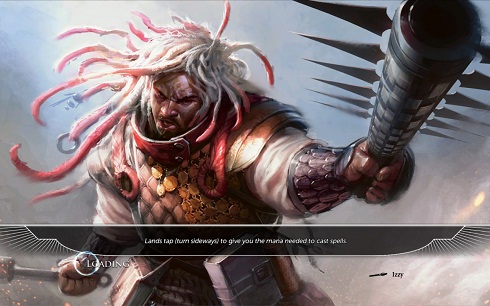 Challenges are staged scenarios designed to test your magic card manipulation know-how and understanding of the game. They are a great way to get a better view of the deeper gameplay involved in Magic: The Gathering. You are presented with a scenario in which you may only have a certain amount of life and a set number of cards, and you have to play your way to a win with in time frame before your opponent takes you out.
Multiplayer is a smooth affair that consists of a few different gameplay modes: Free-for-all, where it's you versus up to 3 other players, Double-Headed Giant, where it's two versus two, and the new Planechase mode. You can quickly jump into any multiplayer game or host your own, and the PC version now has text chat, too. If a player quits during a match, you have the option of the AI seamlessly stepping in to complete the game — and leave your rank intact. This feature was sorely missed in the first iteration, as sore losers could just quit and leave the game hanging.
Custom Game is really just an offline multiplayer mode that give the player the same game mode options against the AI. This is a good way to get practice and unlock more cards for your deck before you take it online.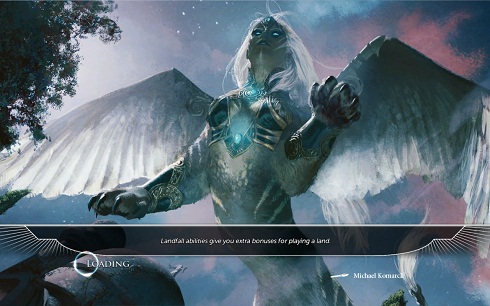 Graphically this game, as with the ones before it, is very well-rendered, with 3D fantasy landscapes behind the menu screens and the loading screens displaying various artwork from the series. The cards themselves are faithfully represented and beautifully displayed, with the ability to zoom in and get a closer look. There is also a well-implemented help system that can explains the abilities and keywords written on the cards, as well as a popup tips feature, which can be turned off in the menu system in game, but is very useful to new Magic players.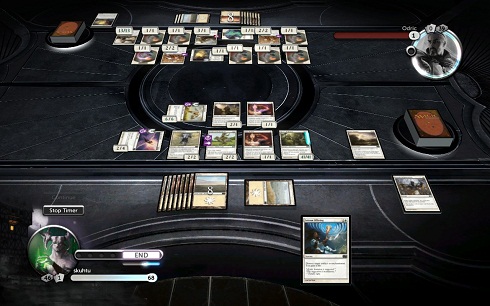 The main screen is subtle and dark, and in this version it seems to shift the focus more onto your card hand rather than the play area. The game phase tracker, as in the previous games, is very discreet and not something that you have to really focus on, as the game automatically progresses through them and will auto-skip them if they are redundant. Play can be stopped during phases (on a limited timer in multiplayer) if it is going too fast to keep up.
Good learning curve
Faithful reproduction of cards
Great online multiplayer
Music is a bit tedious after time
Duels of the Planeswalkers 2013 is a nicely paced step forward for the series.  It shows off some of the up and coming 2013 Core set cards, introduces a new game mode and tweaks ideas from previous iterations. It caters for just about all levels of Magic: The Gathering fans, from the people who may just want to see what it's all about to the core fans who might want to widen their horizons. Duels of the Planeswalkers 2013 makes Magic accessible to the single-player, with the option of being able to find online multiplayer matches with ease.
Freeform Communications provided a review copy
Official Game Site
Tags: 2013, magic, magic the gathering, planeswalkers