Every now and then, an awesome franchise like Mass Effect comes along – and with such a franchise, an anorak (or whatever the appropriate collective noun should be) of die-hard collectors promptly springs up, ready and eager to buy just about anything that is associated with the series.  After all, such stuff is collectable and therefore a potential plasticky heirloom to hand down to the future generations that may or, depending on your dedication to such franchises, may not, be spawned from your loins.  I've been lucky enough to get my hands on Calibur11's Mass Effect 3 vault, which is not only a collector's item, but a limited edition collector's item – and embraced my inner Mass Effect geek in the process.
• Manufacturer: Calibur11
• Reviewed on: Xbox 360 Slim
• Also Available On: PS3 Slim
• Release Date: Available Now

The Calibur11 Mass Effect 3 Vault is billed as a decidedly premium product for the discerning collector of anything and everything to do with Mass Effect.  Unlike many other "premium" peripherals that I've come across during my many, many years of gaming, Calibur11's Vault does certainly seems to fit that bill – even the packaging has been crafted with a great deal of care and attention, right down to a "peek-a-boo" (do feel free to use your own, more awesome alternative) window that lets you catch a glimpse of the N7-themed goodness that resides inside the box.
For your money (US$89.99 / GB£69.99 / €89.99), you'll find, in addition to the Vault itself, a numbered certificate of authenticity that lets you know which one of the 14,000 Mass Effect 3 Vaults that you have in your grubby mitts and a code that grants you access to the multiplayer Reinforcement Pack DLC, which contains various character, class, weapon and equipment unlocks.
So, thrilled though I'm sure you are with reading a list of box contents, I'd imagine that you'd actually like to know what the Vault itself is like.  Well, much like the other Vaults offered by Calibur11, the Mass Effect Vault is a polycarbonate shell that encases your console, which slots into a sturdy base – providing, according to Calibur11's website, both protection and enhanced ventilation for your console.  I must admit that I decided not to hurl my Xbox off of the top of my block of flats to prove the durability claim, but I'd imagine that the Vault would do a fairly good job protecting your console from any knocks and bumps that it may have to endure courtesy of any cack-handed gamers out there.  Likewise, for assessing whether the Vault improves the ventilation of your console, the Xbox 360 Slim runs pretty cool at the best of times — and, as far as I know, there's been no major problems with 360 Slims spontaneously bursting into flame.  But, as the Vault raises the console up off the table, I could see how ventilation would be theoretically improved.
One slight snag that I did come across, however, was that installing the Vault on my Xbox 360 seemed to greatly increase the noise generated by the DVD drive as it span discs.  Yes, I know that the 360 isn't the quietest console around when it's reading data off discs, but the difference was very noticeable.  Whether this was due to the Vault not being screwed together tightly enough or whether it's an inevitable result of clamping something around your console, I can't really say – but it was loud enough to necessitate turning the volume on my TV up to compensate.
The Mass Effect livery that's plastered all over the Vault is high-quality stuff too.  On one side, there's some screen-printed N7 armour detailing — and there's also an option to mount the included gamepad / headset holder on this part of the Vault, too.  But, the big draw for many a Mass Effect fanboy will be the 3D model of an N7 chest plate that's proudly mounted on the Vault – complete with light-up N7 logo – to let everyone who ventures into your gamer cave that you have the ability to save the galaxy if you really wanted to, but that video games are just a bit more important.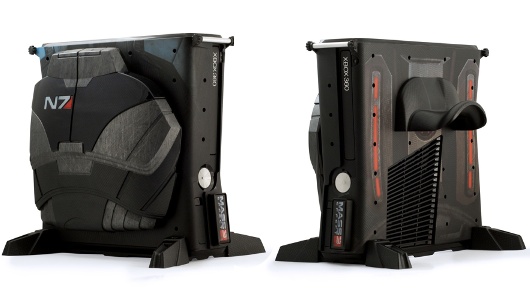 Assembly is pretty straight forward.  All you have to do is screw the two halves of the Vault together (remembering to put your console in the middle, of course) and insert the whole shebang into the base.  There's a couple of extra bits, like the controller / headset holder, that you can add on by screwing them into the Vault before you assemble it, but the whole process is pretty straightforward.
For me, whilst I love the Mass Effect series, I'm not really one for pimping my console (yo, dawg) – but, if I'm brutally honest with myself, being a slightly older gamer probably means that I'm not the target audience for this product.  However, if you live, breath and generally can't get enough of Mass Effect, it's likely the Mass Effect 3 Vault is for you.
Exceptionally well-made
Notionally improves the durability of your console
Unlikely to appeal to everyone
Installing the Vault led to the noise generated by the DVD drive becoming significantly louder
I should also note that the Vault is also available for the PS3 Slim – whilst I haven't tested that unit, I would imagine that it is broadly similar to the Xbox 360 Slim version. If you think this is for you, get a move on, as only 14,000 and 11,000 of the Mass Effect 3 Vaults will be made for the Xbox 360 Slim and PS3 Slim respectively .
Review unit provided by Calibur11
Official Site for The Mass Effect 3 Vault
Tags: BioWare, Calibur11, Collector's Item, EA, Limited Edition, Mass Effect, ME3, Peripheral, PlayStation 3, Super Slim, Vault, Xbox 360