Fresh off of touring around the other Australian States, Brain Candy Live! is a unique, geeky, nerdy stage performance that is a merging of YouTube culture and Ted Talks. A hyper-kinetic demonstration of science, physics and metaphors, Adam Savage and Michael Stevens present a 2 hour production of machines, stage props, all while trying to inform on some of the basic scientific principles as well as entertain.
• Creators: Adam Savage, Michael Stevens
• Reviewed at:  The Star, Sydney, NSW
• Tour Dates: January 22nd – 28th, Australia
Well known for his time on Mythbusters, Adam Savage brings something new here to Brain Candy, riffing off Stevens more controlled and thoughtful ideas as well as doing their best to break down basic principles of motion, energy, combustion and thermodynamics. Stevens's energy is infectious and Brain Candy is a family friendly all-ages gig that relies on audience participation.
Smack bang in the middle of an Australian public holiday long weekend, not to mention the middle of summer, Brain Candy is the perfect excuse to escape the heat and head to The Star Casino in Sydney for a performance that is less Grand Arena spectacular than a more intimate, talk-heavy seminar on science principles that may or may not also include a few explosions and visual effects.
Sydney is the second last leg of their tour, heading straight to Brisbane on Sunday 28th and having it at The Star was an interesting choice. I have to admit, with a background in movies and Mythbusting I was expecting a few more big props, machines and explosions or pyrotechnics but instead Brain Candy worked as a sort of after dinner- theater show or stage production not out of place in a casino.
I am personally less familiar with Michael Stevens, although by the audience reaction it was exactly what was expected, and not disappointing –except more so, bumping out 10-15 min YouTube videos to a 2 hour production. Having seen him live now I am interested in looking up Stevens more cerebral offerings, including some of the mind experiments and psychological games he is known for.
It was good to see Stevens and Savage engage the audience, as well as allowing unfettered access to the action on stage: Having someone ride their jury rigged hovercraft, or compete against Savage in a competition of science was amusing.
A few stand out features of the show include the fact that for the most part all the detail was broadcast live and up close from a camera, onto a big projection above them, that is, while Adam Savage was using one of the machines, Stevens would broadcast it so the whole theatre could see it. Jumping between this and large diagrams made the whole show more watchable.
We were sitting on a raised floor about halfway back, but even so the theatre was full, with a relaxed casual environment.
The mixed media, coupled with some small effects added some 'pizaz' to what was also a lot of talking. As an older audience member, not growing up with Stevens on YouTube and only dabbling in Mythbusters on TV it was good to slow it down in the second half of the show and allow Savage to talk about his career and family, as well as his parents and working on movies like the Star Wars prequels, Matrix sequels and other film.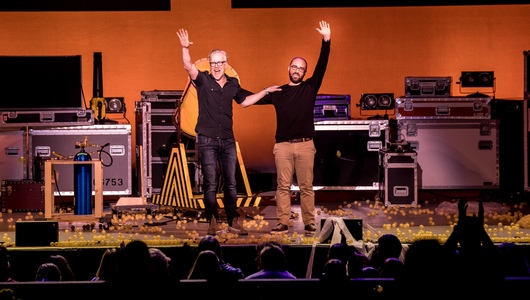 Brain Candy sits as new type of entertainment medium not unlike what other YouTube personalities or entertainers are trying to achieve. Taking something very watchable online and then replicate it live for the same audience whilst also touring and creating a message. Adam Savage now purports to sit in the realm of 'Science Communicators' a relatively new term that exists to explain science story tellers who also entertain.
The titular "Brain Candy" is the 'sense of wonder' or awe at seeing something new or putting two pieces of a puzzle together to form a conclusion that ultimately expands your understanding of the world around you.
From start to end Brain Candy had energy. Some of the jokes fell flat, although it was nice to hear them riff on the different gun laws compared to America. The stunts were practical but did not extend much past tricks with dry ice, ping pong balls and a variety of hair dryers and leaf blowers. Regardless, it is a novelty to have celebrities come to Australia and tour in such a way and it's unique outside of specific conventions to allow such audience participation an open access.
Roosterteeth's RTX Sydney would be the next closest show and is a full weekend convention arriving in February, followed by Supanova in June
Within Australia, we are lucky enough to have our own 'Science Communicators' most notably and famously "Dr Karl" Kruszelnicki that is one part Adam Savage, one part Bill Nighy an author and scholar specializing in knowing anything and everything – about all things.
Some of the Brain Candy Live! highlights
Live, smoke machine vortex cannon, fired out into the audience
"Hovercraft" using hair dryers with a young audience member riding it
Vacuum powered Ping Pong ball rifle that shot a plastic ball at 200KM/PH straight through a wooden paddle
Live Twitter Q & A
Brain Candy theme song
Adam Savage's Ping Pong ball machine-gun that was shooting Stevens behind a Captain America shield at a rate of over 500 balls p/minute (think over sized, over clocked paint-ball gun)
Lastly the Vortex Cannon, full of ping pong balls shot out over the audience.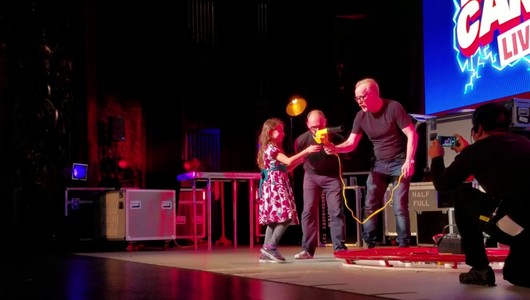 Good Energy, never let up
Engaging, audiance participation
All ages, family friendly
A little dry, clouds are only so exciting
Some of the experiments were repedative
Would have been good to have more technical, deeper dicussions
My Australia Day 2018 ended up being far geekier than anticipated, capped off with female quantum physicist Professor Michelle Yvonne taking away Australian of the Year award.
Brain Candy is not something that I would normally watch either online or in a theatre. It was different, it was relatable and I am sure for younger viewers or those doing science at school was wholly eye opening. In full disclosure, I am married to a Highschool Chemistry teacher, across all years and so for her to see these two communicators succeeding with their larger than life talks, I know inspired her.
For fans of shows like Mythbusters Live or TopGear Live there is a lot to like and if possible either check out Brain Candy online or Michael Stevens other shows. Hopefully they will continue to tour so everyone around the world can get a taste of that sweet Brain Candy!
Official Brain Candy Site
Tags: Adam Savage, Australia, Brain Candy, BRB Event, live, Mythbusters, Tour, YouTube