I will start by being honest, I am not a huge fan of top down racing games – they have never really struck me as something that I can pick up and enjoy. So when I say I loved every second I played Mantis Burn Racing – It is something special for me.
The game initially caught my eye because it is beautiful. I was greeted by a menu of a stunning desert landscape with an intricately detailed off road buggy positioned in the center of the screen. I initially thought it to be more of an open-world arcade racer, I have never been so pleased to be wrong.
• Developer: VooFoo Studios
• Publisher: VooFoo Studios
• Reviewed on: Playstation 4
• Also Available On: Xbox One, Playstation 4 Pro, PC
• Release Date: Available now on Steam Early Access (Coming soon to PS4 and Xbox One)
I started my first race and immediately took a step back to readjust. I sped into the first turning and started bouncing off the other racers. Each opponent reacted in its own way as the games impressive AI had the computer controlled cars jostling for position. I then realised that each individual wheel's suspension resisted and responded to each bump and grove in the track – It was a nice touch.
When picking up the controller for my first time I tried an 8 player career race. I was racing on dirt so my car buggy drifted fluidly, it was a satisfying feeling of "only just" being in control of the car. My 7 AI opponents seemed to react to my style of racing as my plan to use the opposition as bumpers ended with me spinning out and facing backwards two turns later. After roughly two competitive laps later – I ended in 4th.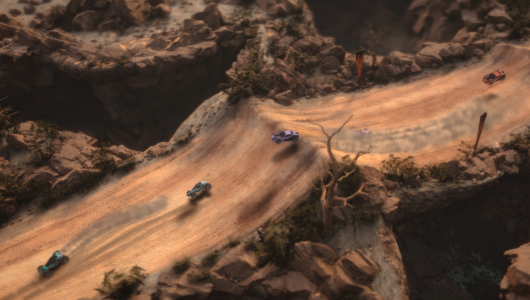 In order to better myself, I looked into the games extensive customisation menu. You can switch out multiple parts of your car such as tires, supension, engine and more, meaning there are hundreds of thousands of combinations for your vehicle. Each vehicle has its own branching upgrade trees and RPG like leveling system. I only saw a section of this and each branch seems to be beneficial to different styles of racer – Meaning that it may take more than a few attempts to find out which path benefits different racing styles.
The controls were similar to other racers, left and right triggers are brake and accelerate respectively, X is boost and left stick steers your car. The simple controls are a case of "easy to pick up, harder to master" which meant each pass felt earned and rewarding. So much so that I replayed the race again and again to try to best my time.
Mantis Burn Racing is one of the most enjoyable racing games I have played this year. With its complex upgrade system as well as its 4 player split screen, extensive career mode and 8 player online modes, it is looking like it will be an extremely impressive package. Be sure to look out for Mantis Burn Racing on Steam Early Access, coming to Playstation 4 and Xbox One later this year, as well as supporting native 4K on the Playstation 4 Pro.
Official Game Site
Tags: Early Access, EGX 2016, Mantis Bun Racing, PC, PlayStation 4, Steam, VooFoo Studios, Xbox One