We've already reviewed the new Ratchet & Clank movie here at Big Red Barrel – which you can read right here – but today we're here to talk about the game, based on the movie… based on the game. It's a strange piece of marketing that Sony have been pushing, but thankfully Ratchet & Clank on the PlayStation 4 isn't just a success, it's one of the best games on the platform full stop.
• Developer: Insomniac Games
• Publisher: Sony Computer Entertainment
• Reviewed on: PlayStation 4
• Release Date: Available Now

Ratchet & Clank treads in the footsteps of the original game from nearly 15 years ago, whilst having a uniqueness of its own at the same time. It's not a full on remaster, but long time fans of the series will notice a lot of similarities in terms of level design and characters. The game follows the story of a Lombax named Ratchet and his fateful encounter with a defective warbot named Clank as they attempt to save the Solana galaxy from the maniacal Chairman Drek who is attempting to build a new planet by blowing up and stealing pieces of others.
The story deviates slightly in places from the original with the introduction of the Galactic Rangers and Dr. Nefarious – both of which weren't seen until Ratchet & Clank 3 on the PlayStation 2 – as well as the inclusion of brand new characters. The premise is the same, but the story is being told in a different way. The game is more of a re-imagining than a remaster. Classic characters such as Captain Qwark, Big Al and Skidd McMarx return in similar roles to the original game as do many of the levels such as Novalis, Rilgar, Pokitaru and Batalia – which are identical to their PlayStation 2 counterparts. The one major difference you'll notice right away with Ratchet & Clank however is just how unbelievably gorgeous it looks. It makes a convincing case for being the most graphically impressive game on the PlayStation 4 so far.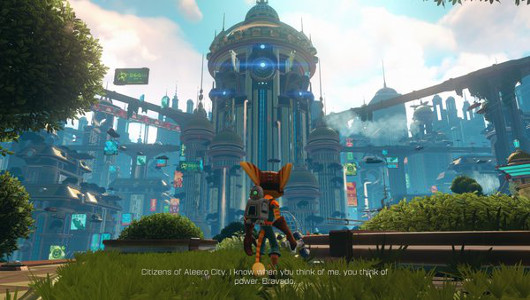 The game is narrated by the bumbling anti-hero, Captain Qwark, who is also on hand to give you hints on how to progress – including the always handy and not at all sarcastic "Try as he might, Ratchet couldn't breathe underwater" if you happen to be close to drowning. There's a great deal of tongue in cheek humour interlaced throughout, as well as a couple of attempts to break the fourth wall. Gameplay is similar to the very first Ratchet & Clank game whereby you progress through levels solving puzzles, defeating enemies and breaking boxes to acquire bolts and extra ammo. You'll also be able to upgrade Clank with a helicopter and thruster pack upgrade as you progress in the story too. There are hacking mini-games in the mix as well when you reach certain doors or objectives, and these provide a genuine challenge in terms of their complexity and difficulty. Thankfully they can be skipped and auto-completed if you so desire, but if you want that trophy for solving all of them in one playthrough you'll need to stay away from that auto-complete button.
A handful of levels also see you play as Clank as he infiltrates certain areas – usually through a ventilation shaft. Gameplay with Clank is almost exclusively puzzle solving using small robots called Gadgebots. The Gadgebots can be changed into three different forms by Clank – bridge, spring and power – in order to solve puzzles. They're nice little distractions and they do provide a good challenge as well, but much younger players may be put off by the –sometimes high – degree of complexity.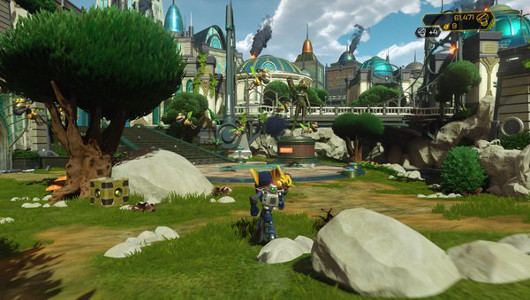 Each level has optional objectives to complete that will award you with extra items that can assist you down the line – though they're not always required to complete the main storyline. Each level also contains hidden gold bolts which can unlock special bonuses. These can be anything from different heads for Ratchet, the ability to change bolts – the in-game currency – to different items such as rupees from The Legend of Zelda and also unlock concept art and cheats such as invincibility or infinite ammo. Many of these gold bolts will be found in areas not accessible to you the first time you play through a level. For example, there's a mag-boot wall on Aridia that cannot be scaled until you've actually acquired the mag-boots much later in the game. You're always sufficiently rewarded for going back to levels you thought you'd finished up with.
As well as the gold bolts there are also collectable "holocards" which give you information about the different characters, locations and weapons from the entire Ratchet & Clank franchise. These cards are split into sets of three and give you bonuses once you complete them such as the ability to purchase powerful "omega variants" of existing weapons in the challenge mode that unlocks once the game has been completed.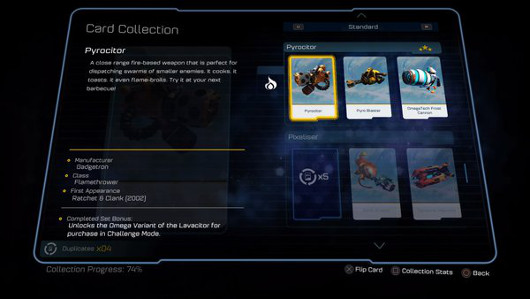 Speaking of weapons, there are a massive amount of them to acquire. From the classic Combustor and Pyrocitor to the hilarious Mr. Zurkon and Groovitron, there's a great mix of weapons from across the past 15 years of the franchise and all of them are great to use no matter what situation you find yourself in. Each weapon can be levelled up and in your first playthrough the weapon will change into a different variant once you reach the max level of 5. You can also upgrade your weapons with Raritanium – dropped from enemies and patches of crystals in the world- making them even more powerful. Once you've finished the game you have the ability to purchase the aforementioned "omega variant" of a weapon in challenge mode – provided you've levelled it up to 5 and have the complete set of holocards for that particular weapon.
There are very little negatives to the game, but the only major criticism that I have with Ratchet & Clank is how abruptly the story ends compared to the original game. Whilst it follows the plot loosely, the ending left a sour taste in my mouth. Without wishing to spoil anything too much, the game ultimately ditches a major character by – quite literally – throwing them out the air lock and ending in a final boss battle with someone that you really don't expect. After the boss battle I was expecting there to be at least another portion of the story given that there hadn't been a resolution surrounding the major character that was ditched – colour me surprised when the credits rolled.
Ratchet & Clank is ultimately a short game with a disappointing ending compared to some of its predecessors. But the solid gameplay, humour and nostalgia trip – as well as the roughly £25 price of entry to buy the game is enough to make me overlook it.
Absolutely gorgeous form a graphical standpoint
Solid gameplay, lots of collectables and a massive arsenal of weapons
Tonnes of nostalgia for long time fans of the franchise
The story ends abruptly and without warning
Everything about Ratchet & Clank screams nostalgia which is great for long time fans of the franchise, like myself. But it's also inviting to people who might never have dabbled in the series before. It goes back to its roots, but it keeps things new and unique at the same time. Aside from the disappointing ending of the story there's very little to criticise with the game. It goes without saying that if you own a PlayStation 4 you should definitely have Ratchet & Clank in your library.
[youtube id="q5Mjz1RTfkU"]
The review copy of this title was purchased by the author.
Official Game Site
Tags: clank, games, Insomniac Games, PlayStation, PlayStation 4, ratchet, Ratchet & Clank, ratchet and clank, Sony Computer Entertainment