There have been games which separated friends, destroyed marriages and caused a lot of suffering. Mayan Death Robots is one of those games! We will love and hate to play it at the same time and I mean that in all its beauty. I got my hands on the beta of the upcoming indie game and was able to get some impressions and discover why there are Mayan Death Robots on planet earth.
• Developer: Sileni Studios
• Publisher: SOEDESCO
• Reviewed on: PC
• Release Date: TBC
In the near future, we will send robots to foreign planets to fight each other to their death so we can watch how other civilisations suffer for our entertainment – to justify it we will then call it "Intergalactic Sports TV". At least this is what I learned from the game. The premise of this game is explained briefly and is just as crazy as it sounds.
In the beta of the game, we are sadly only able to play the campaign. It always tells us to make the fights as spectacular as possible; to not lose any viewers on our home planet. The civilisation which has to suffer for our entertainment are the Mayans from planet Earth. So all in all, the game Mayan Death Robots is about robots fighting to the death at the cost of some Mayans.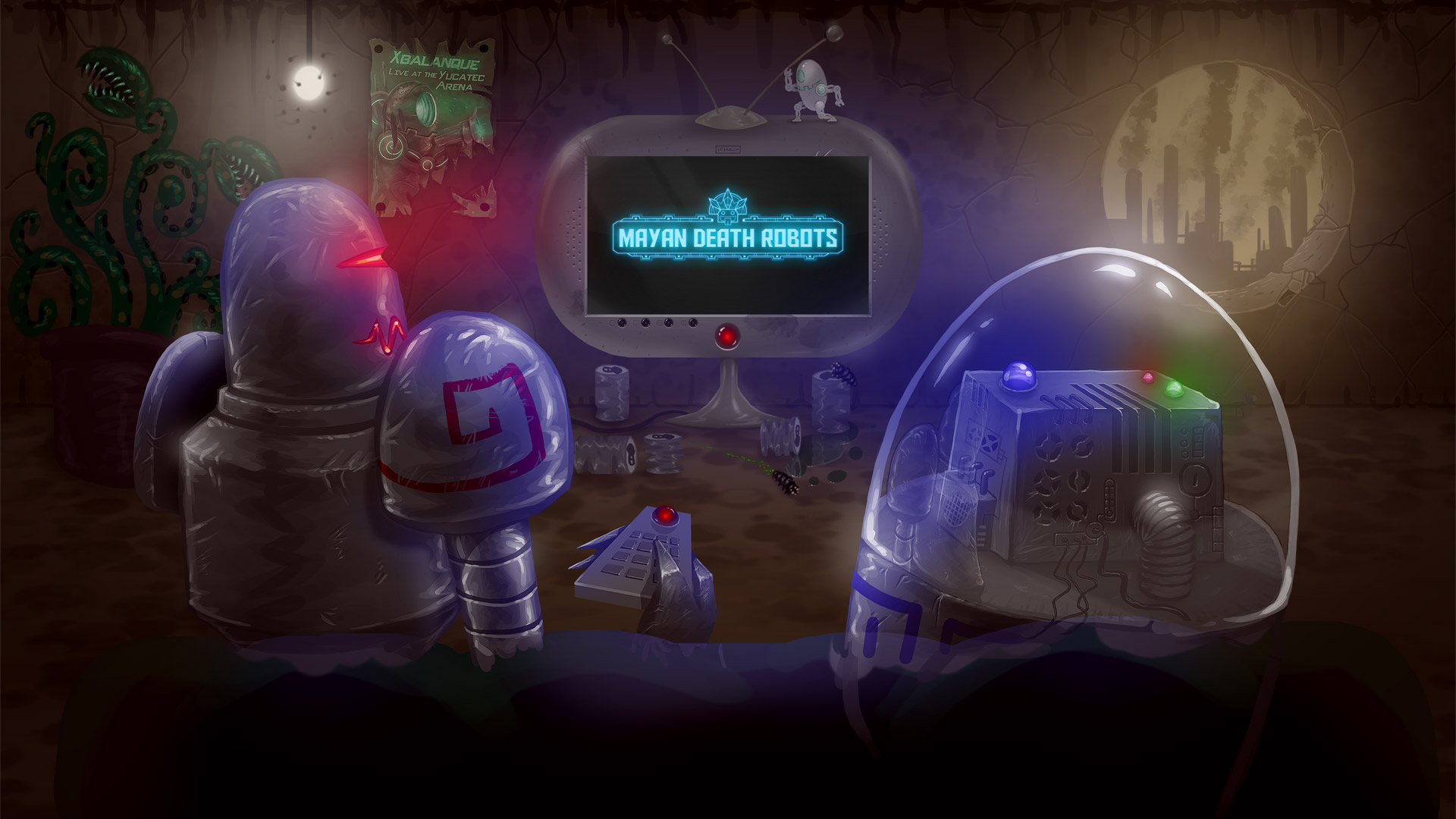 The game itself reminds me of a smaller version of Worms. Two robots fight with their tools to destroy one another. Each robot has two unique weapons in their kit. Throughout that, every robot is unique in their play-style which makes every game a little different to the one before – and since there is even a robot with a nuke in its kit, it was easy for me to enjoy the game right away.
The rules of the game are simple – since there is only one – destroy the opponent's core. A little box which provides your robot with energy needs to be protected from the other cruel robot who is trying to destroy it.
Of course, you've got to try the same thing; but be aware! Go too aggressively for the enemy's box and yours will have no protection but if you stay too passive then chances are you are going to lose because the opponent will not stop to fire at you. If all else fails, you can quickly build up a wall to protect your core. But is it really worth wasting a round to protect yourself?
You see, there is a lot of thinking to be done if you want to entertain the viewers at home with the demise of the enemy robot. The campaign is sculpted with a lot of detail – enough detail to tell a really good story about how the death robots change the lives of the small civilisation. As good Mayans, they see the robots as reincarnations of their gods and help them fight each other to find out who is the most powerful. Let's be honest – if I were able to see our gods fight each other with rockets and lightning, I would pay to watch that.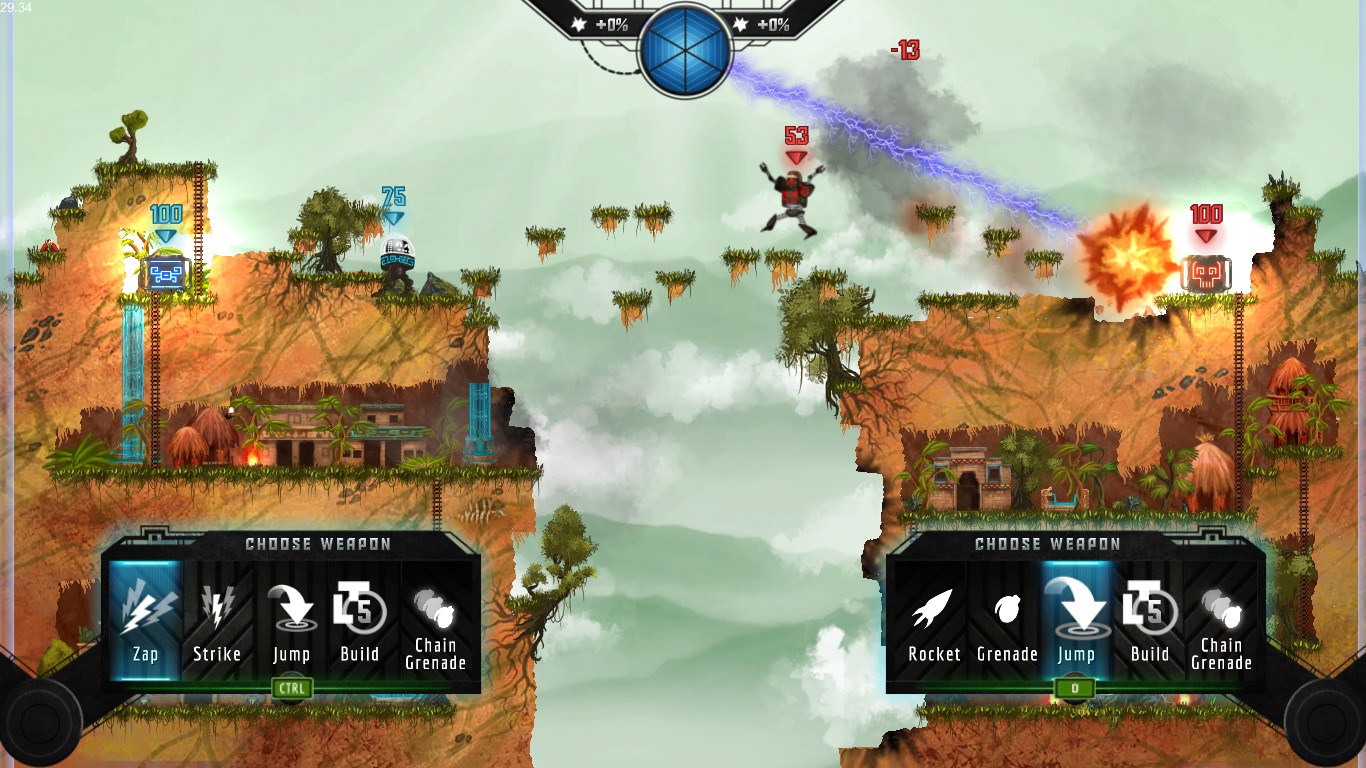 The only problem is that the real Mayan gods don't like to see robots take their place. So they sometimes interrupt your battle and you have to unite to beat those mighty foes. This brings a little diversity to the campaign and helps to dive a little more into the story.
The reason why this game is so fun is that it's pretty unpredictable and easy to learn – but hard to master. It could happen that one of you is winning very clearly but then both of you get a ridiculously, strong weapon and the tide of the battle changes completely.  It's fun to play with this kind of random factor but also increases the chances for a massive table-flip.
The game-play itself is, apart from a little random, also extremely funny. Sometimes if you come too close to the opponent's core, the small Mayans will attack and even kill you. You really feel the passion that was put into the game while playing it – which is a huge plus.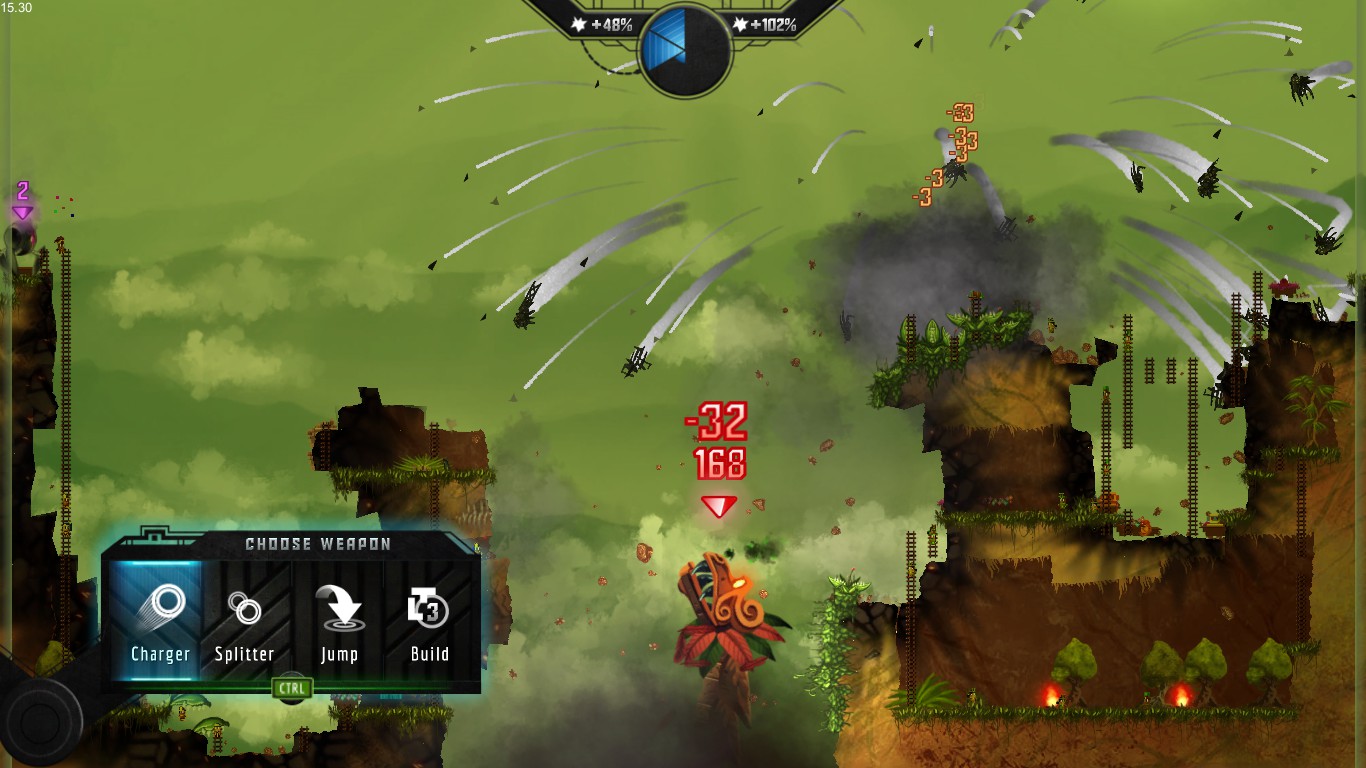 In the beta, there are ten death robots to choose from – each one representing a Mayan god, which means that there are twenty unique weapons you can use. Although I had a lot of fun playing this game, I felt that, in the end, it was a little unvaried. The game tries a lot to make every single game unique and also succeeds for the most part – but I definitely would love to see more robots entering the arena. Since this is only the beta, I'm sure there will be more and I'm really looking forward to that.
In the end, this game will not hold you on the line for two to three hours straight but it's also not designed to do so. This game is more like a competitive game between friends. This game wants your attention for half an hour, gives you a good time and wants you to come back later to play it again – and for this purpose, it fits perfectly.
After finishing the campaign, my friend and I used the game to settle arguments and to decide who was going to pay for dinner that night. I had a lot of fun with this game and I can't wait for more Mayan Death Robots.
Official Game Site
Tags: Gods, indie games, Intergalactic Sports, Mayan Death Robots, Mayans, Tableflip, Worms