Kurt Busiek may not be the best known name in comics but he has some serious writing credits to his name. If you have heard of Kurt, it will be from his work on DC's Trinity and JLA or his four year run on Marvel's Avengers and the miniseries Marvels.
However, in 1995 he began to write possibly the best comic you have never heard of: Astro City. Working with prolific character designer and cover artist Alex Ross (JLA, Kingdom Come and Marvels) and illustrator Brent Anderson (Best known for his work on X-Men), Busiek began his magnum opus; a long-running superhero comic he called Astro City.
• Writer: Kurt Busiek
• Art: Brent E. Anderson
• Covers: Alex Ross
• Publisher: Image/Wildstorm/Vertigo (DC)
• Release Date: 1995 – Present Day
Neither a parody or a gritty deconstruction of the kind so fashionable in comics in the 1990s, Astro City is instead a long love-letter to superhero comics. Busiek, Ross and Anderson have created an original superhero world filled with reflections of the superhero archetypes you might find in better known comic universes. And it is absolutely chuffing brilliant!
Originally published by Image Comics, Astro City soon moved to Jim Lee's new independent publisher Wildstorm. Sadly in 2000 publication became sporadic due to Busiek's ill health and, after a brief resurgence to write the Dark Age story arc, Astro City seemed to have run it's course.
Barely having ventured into a comic book store, I discovered Astro City a few years ago when it was recommended on the science fiction podcast Starship Sofa Graphic Fan feature. I had recently started to collect graphic novels after reading Watchmen and, after a brief visit to an online retailer named after a long river and a three-to-five working days' wait, I had my hands on the first Astro City volume Life In The Big City.
About five pages in I had fallen in love. Alex Ross' covers are masterpieces and Brent Anderson's art in each of the stories is rich, ambitious and evocative. However, it is in Busiek's writing that, at least to my mind, Astro City's greatest strength lies.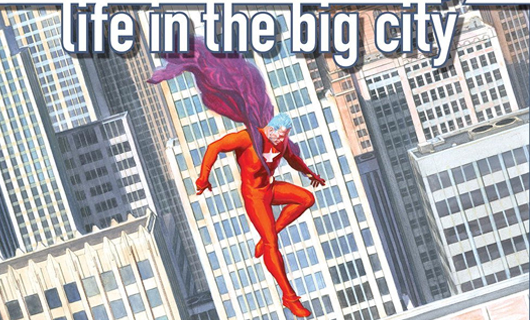 Life In The Big City is a collection of self-contained single issue comic stories introducing us to characters ranging from the almost god-like Samaritan, the arrogant and acrobatic crime-fighter Crackerjack and the sinister guardian of Shadow Hill The Hanged Man. Unusually for superhero stories, Life In The Big City has as much time for the ordinary citizen as it does for it's costumed cast of superhumans.
It is just as common to find a story revolving around a clerk in a law firm or a street-thug as a costumed crime-fighter. One of my favourite stories in the collection starts when a low-level gangster learns the identity of Jack-In-The-Box (think Daredevil but a circus clown) and ends with him realising that, rather than giving him power and influence, this information puts him in mortal danger.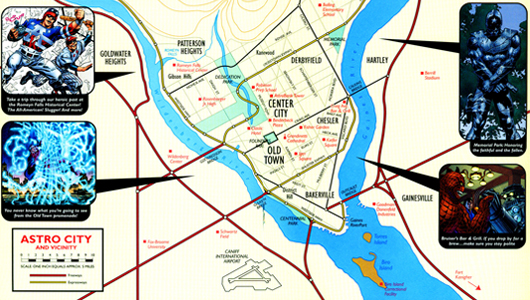 It is no coincidence that, from the first issue, Astro City seems to be set in a deep and fully realised world. Busiek, Ross and Anderson drew up city maps, planned skylines and even claim to have written 75 years of superhero history before they began work on the first issue. The effect is that, from the very beginning we start to see hints at larger themes and plot threads that will become important in the following years.
As Astro City continued into the next seven volumes, Busiek, Anderson and Ross settle down to more tradition multiple issue arcs. The story ideas vary wildly from legislation around registering superheroes, alien shape-shifters invading the Earth by stealth (published some years before both Civil War and Secret Wars), supervillains trying to rehabilitate themselves, retired heroes coming back for "One last job" to a superhero couple's daughter trying to make friends at a normal elementary school.
At the heart of these stories, however, there are always believable characters behaving in believable ways, no matter how unbelievable the situation they are in. Whether they are an an out-of-towner moving into Astro City, a cartoon lion accidentally brought into the real world by a mad scientist or Confessor, a character who can only be described as Roman Catholic Batman (his sidekick is called Altar Boy; it should not work but it most certainly does!) they are all made relatable by all to human desires, emotions and flaws.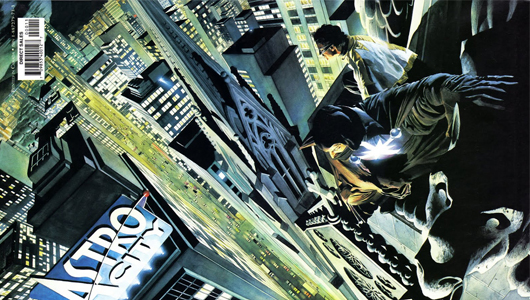 So, content in the knowledge that there were only eight volumes, I began to collect the trade paperbacks. Most volumes seem to be in print, though the occasional one required me to look rather seriously at obscure book websites and even more seriously at my bank balance. That was, at least, until Free Comic Book Day 2013 when one of the DC titles carried the news that Astro City, complete with the original creative team of Busiek Anderson and Ross, had moved to DC's Vertigo imprint. It is no coincidence that in June 2013 I started to buy single issue comics.
Right from the first issue the team seem to be at the height of their creative powers. Story ideas have included a refurbished super-weapon robot museum, a call-centre worker for the superhero team Honor Guard, a feminist superhero desperately trying to protect her women's shelters while her credibility is attacked, a retired cosmic superhero who married an alien queen but still pops back to Earth to buy beer and a super-intelligent super-strong gorilla from the North Pole who just wants to be the drummer in a cool band.
These stories vary in length from one or two issues to six issue arcs but, importantly, each story remains a complete story with a beginning, middle and end (something sorely lacking from some more main-stream comic titles). Perhaps even more crucially for the new reader, while firmly rooted in Astro City's history, every story stands alone without having to have digested more than a decade of backstory to understand or enjoy. I am delighted to say that, some twenty years after the first issue was published, the Astro City of 2015 remains chuffing brilliant.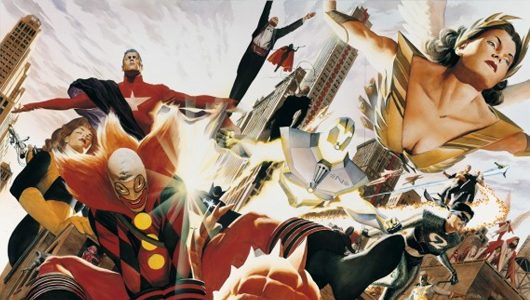 There are few ways I can recommend for you to start reading Astro City for yourself. The (Eisner Award Winning) Astro City Issue #1 "In Dreams" is (with a bit of searching) available for free on the Android, iOS and Kindle comiXology app, which is a pretty risk free option. If you want to start at the very beginning, a new edition of Life In The Big City is available from your local comic book store, comiXology app or a number of online retailers (which may or may not be named after a river in South America).
The trade paperbacks for 2013 onwards are published by Vertigo and the first Through Open Doors would serve as a terrific jumping on point as it is the first appearance of The Broken Man, who may or may not be very important to whatever is happening in Astro City in the next few years.
Of course, if you are feeling brave and are in a comic book store anyway you could just pick up a single issue and discover what Messrs Buseik Anderson and Ross have dreamed up this month.
Tags: Astro City, Chuffing Brilliant, comics, DC Comics, graphic novels, Roman Catholic Batman, Vertigo