Indie game developer 2Awesome Studio expressed their disappointment with the revelation of a 'troll' Kickstarter donation worth £7,000. The Netherlands based studio's Kickstarter for their game Dimension Drive had reached their final target of €30,000, only to be given the shocking news that the donation was fraudulent. The studio expressed their devastation on their Twitter account, evoking the question of whether Kickstarter funding can be just as harmful as helpful.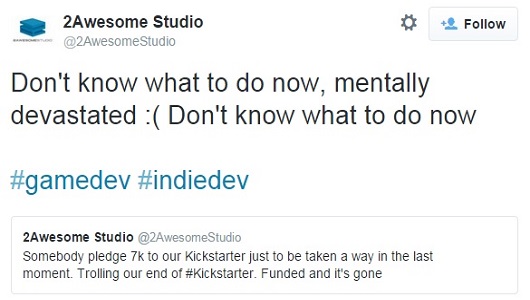 The games industry and gamers alike have united to show their support for the studio. Mike Bithell, fellow indie developer of Thomas Was Alone, echoed the voices of many in response to the shocking news.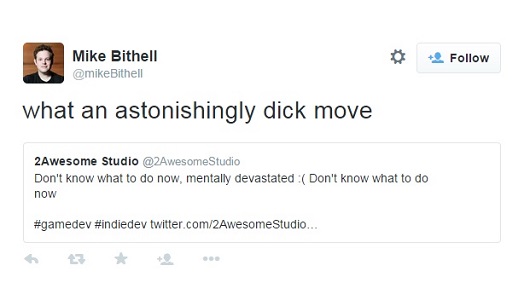 There's no denying that Kickstarter is a ground breaking and innovative way for individuals to gain support for their work. Projects such as Playtonic Games Yooka-Laylee has an incredible 49,954 backers, raising £1,582,287 to date and is currently the UK's most successful Kickstarter campaign. It certainly proves that community-driven funding may be the way forward for budding game developers who need that extra financial boost to get on their feet.
[youtube id="8aLWDPqGFzY" align="center" maxwidth="530″]
However, in light of these recent events – just how secure is Kickstarter and will this be a daily occurrence? It's certainly raised questions on the legitimacy of donations, not to mention raise alarm or even hesitancy in game developers to participate. In an age where digital transactions are key, will Kickstarter find a way to examine donations? Can they track individuals who do try to fool unsuspecting victims? We'll just have to wait and see.
2Awesome Studio are currently on the search for a solution but currently, their Kickstarter page is just sitting there, with a 'Funding Unsuccessful' message displayed.
Tags: 2Awesome Studio, Dimension Drive, kickstarter, Mike Bithell, Troll