11bit Studios, developer of the acclaimed and extremely harrowing war-zone survival game This War of Mine have teamed up with War Child to raffle off some great prizes and support a worthy cause in the process.
From the 15th to the 29th of January, you will be able to donate money to War Child through 11bit Studios' dedicated site here. War Child are committed to helping children affected by conflict all over the world. Your donations will be used to provide education, medical assistance and protection for children in war-torn areas.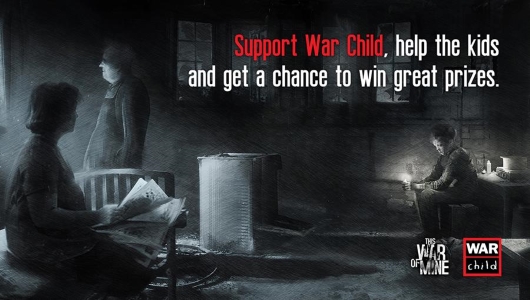 Everyone who donates at least $1 will be eligible to take part in a raffle to bag themselves some sweet loot, including an Alienware laptop and an NVIDIA Geforce GTX980 graphics card, courtesy of 11bit Studios.
The full prize list is as follows:
1 x Alienware 14″ laptop
1 x NVIDIA Geforce GTX980 graphics card
1 x NVIDIA Shield tablet & controller
10 x Steelseries Stratus controller
10 x Steelseries Siberia Raw Prism gaming headset
25 x This War of Mine
Everything that you need to know, including the donation link and terms of the raffle can be found at http://warchild.thiswarofmine.com. So head on over there if you want to help make a difference and give yourself the chance of picking up a tasty prize. Mmmmm… charity.
Tags: 11bit Studios, Gaming For Good, Sweet sweet loot, This War of Mine, War Child