The Crew was originally slated to arrive about a year ago on the newly-released current generation platforms. Arriving at the same time as Forza Motorsport 5, DriveClub and Need for Speed: Rivals, it would have struggled to make a name for itself without some distinctive features. Ivory Tower, its newly-formed developer, and Ubisoft hoped the expansive open-world it had built by recreating the entirety of the United States, as well as the seamlessly integrated co-op play, would be enough to set it apart.
Releasing a year later than initially planned and into an equally crowded driving game market, The Crew is still hoping it can rely on its setting and multiplayer to differentiate it from the pack. The good news is that it mostly succeeds on both counts – the bad news is that Ivory Tower drops the ball elsewhere.
[youtube id="N8O4_FQy1mg"]
• Developer: Ivory Tower
• Publisher: Ubisoft
• Reviewed on: PlayStation 4
• Also Available On: PC, Xbox One
• Release Date: Available Now

As mentioned in my preview earlier in the year, the story in The Crew is as hokey and predictable as the worst of Hollywood's output. The premise sees you take on the role of a talented but unfocussed street racer who is incarcerated for a crime he didn't commit – though not for all of the other ones that he did. Given a chance to get revenge on the parties that placed him in this predicament, you are tasked with infiltrating a criminal gang you used to be affiliated with – with the end goal being to take down the leader of the group and his 'dirty cop' accomplice.
It seems that Ubisoft are not happy with the fact that Activision seem to have sewn up the 'dude-bro shooter' genre, while EA have the 'dude-bro sports sim' in the bag. As a way of fighting back, they have created the 'dude-bro street racer' genre and have gone all out to try to stick the landing. This is not only evident in the terrible plot and cringe-worthy writing, but also in the fact that after each race (or more maddeningly, solo events), you invariably perform a dramatic handbrake turn/stop as a way of celebrating your victory.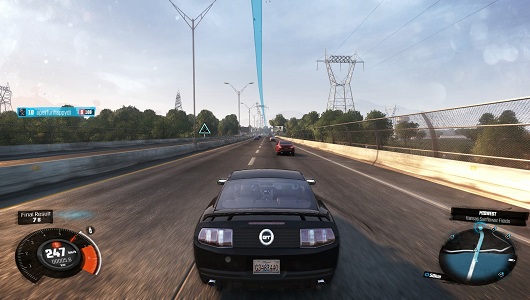 So far I have spoken quite negatively about The Crew but when they front-load the game with an abysmal story, it just doesn't make for the best first impression. Once the game opens up and you realise you have the United States open to you (though admittedly a condensed version of it), things get far more interesting. It is no great shock that one of the greatest pleasures available to you in the game is going on country-spanning road trips with your buddies in tow.
The game does sacrifice the quality of its visuals to boost its quantity though. Textures range from stretched to downright ugly, pixelated messes. The environments all feel a little too same-y – with various cities being practically indistinguishable from each other, except for a few key landmarks. The locations themselves are relatively sparse in terms of traffic and population also, making the game world feel hollow.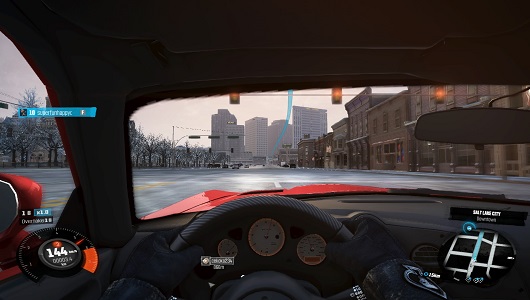 In order to fill out that world though, you have your fellow racers. Shortly after the game starts, you are allowed to create your crew of up to four drivers, comprised of online friends or nearby players who accept your invitation. Regardless of the mission at hand or if you choose to simply floor it from New York to San Francisco, playing with others just makes things better. Of course, the lack of an offline mode will annoy many but the requirement for online connectivity means that the game world is always populated.
I did say at the start of this review that the massive world and multiplayer help to set this game apart – however, I also said that Ivory Tower drop the ball in other areas. The primary area that lets The Crew down is the game's severe lack of variety in mission types. You are given a stupendously large world to explore but the only activities available to you range from story missions made up of checkpoint races and evasions to side activities which range from checkpoint races (precision driving tests) and evasions (slalom challenges). The lack of variety almost neuters the expansive world available to you.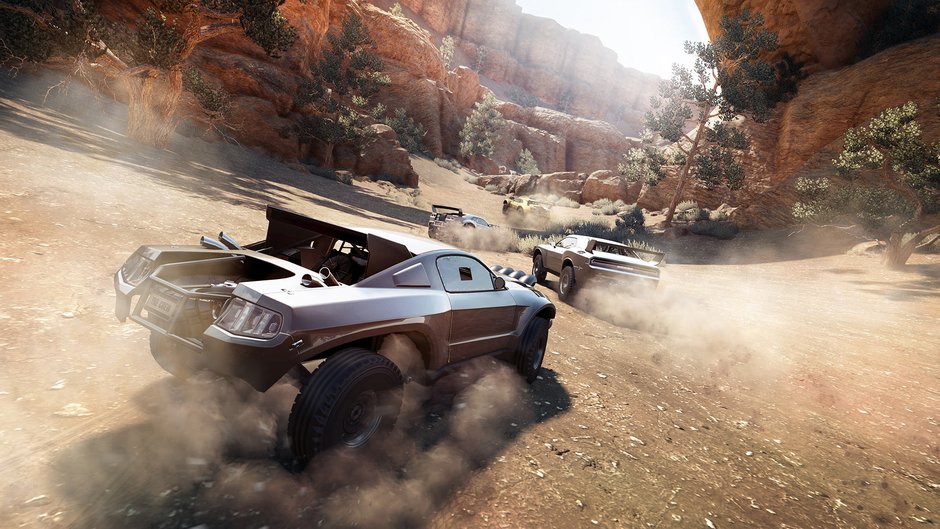 Another problem was the driving mechanics. While I am not a fan of the handling model Ivory Tower have chosen here (I was hoping it would emulate Driver: San Francisco), I eventually got used to the floaty turning and odd collision physics. However, winning races or completing challenges requires you to be at a certain car level before it even becomes possible. You will always be able to cut corners and use nitrous to aid you in gaining an advantage, but the rubber-banding in the game is so bad that the only way you can succeed without grinding your car level is through sheer luck.
Despite the BRB UK show making it nigh on impossible to refer to The Crew as a MMO without cracking a smile, there are certain elements of this model that I liked. You receive money for logging in every day, and can take part in daily challenges. The competitive multiplayer is also enjoyable. However, those cursed micro-transactions make an appearance here too. Crew Credits can only be earned through these payments and are used for in-game purchases – however, you get the option to use in-game currency to purchase cars.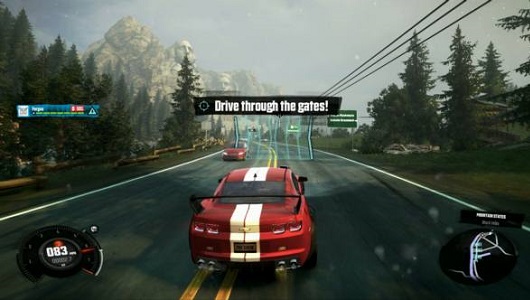 A gargantuan world to explore
Well-implemented online integration
Car control is 'squidgy'
Lack of variety in mission types
The Crew is a good racing game with a gigantic open world to explore. It has a smooth online experience, making it easier to invite friends and other racers to your game. I just wish they gave us something compelling to do while in it.
Review copy provided by Ubisoft
Official Game Site
Tags: Ivory Tower, PC, PlayStation 4, The Crew, Ubisoft, Xbox One