In the lead up to this weekend, I decided to prepare myself for seeing Transformers: Age of Extinction by watching some of Michael Bay's other works. Instead of watching one of the earlier entries in the giant robot toy franchise, I chose to watch The Rock. It is probably telling that I had to go back to the 90s to find a Bay movie I actually wanted to watch.
While I can already guarantee that Age of Extinction will make truckloads of money (pun intended), I am sorry to report that whenever the inevitable Transformers 5 movie appears, my preparation will probably involve that film about Alcatraz again.
• Director: Michael Bay
• Exhibition: 2D/3D
• Rating: 12A
• Run Time: 165 mins

The beginning of Transformers: Age of Extinction tells us that the dinosaurs were not wiped out by an asteroid millions of years ago, but by an attack from aliens dropping what looks at first to be terraforming bombs. You might remember that this is now pretty much the fourth time this franchise has rewritten its own history. Regardless, it turns out that the CIA and KSI, a large multi-national corporation, have joined forces to create their own Transformers in the wake of the Battle of Chicago and they are not only tracking down both Decepticons and Autobots to give them the resources to do so, but have made arrangements to source one of these 'seed' bombs to further their plans.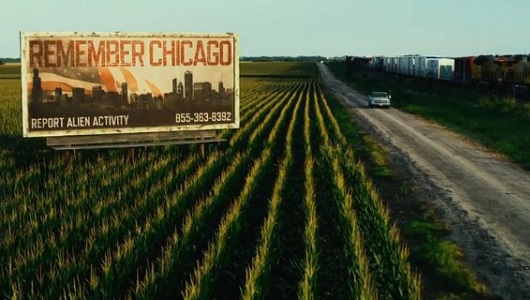 In the middle of this, Cade Yeager (Wahlberg) is a down-on-his-luck inventor who finds an equally decrepit truck that he hopes to fix and sell to get his daughter (Peltz) through college. When the truck turns out to be Optimus Prime and the CIA descend on their location, Cade is forced to flee his home with his daughter and her secret boyfriend (Reynor) in tow.
The rest of the movie introduces us to other characters, both human and robot – but no one makes any sort of impression. Like all of the previous entries in the franchise, Bay simply hires actors and lets them run wild. Admittedly the actors he gets are phenomenally good ones, like Kelsey Grammer and Stanley Tucci, but he seems to exert no form of control over them. This is most evident in a scene later in the movie, set inside an elevator which goes on for what feels like 10 minutes, with Tucci trying to be funny, but had me checking my watch multiple times!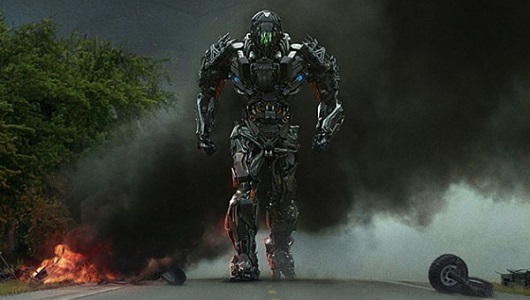 Walhberg's character starts out as a father who wants to protect and provide for his daughter but is impulsive and immature. He ends the movie in much the same way. This is a trend for every other character too. The only individual who changes at all is Optimus himself, but only in who he directs his scorn at.
However, like the previous entries in the Transformers series, most people go to see the movies to see giant robots kicking the snot out of each other. With the advent of 3D movies, Bay has been forced to slow down his set pieces, meaning we actually see what is going on. Similarly, ILM have clearly got much better with their technology and have created distinct Transformers. All in all, the action in this one trumps any that has gone before.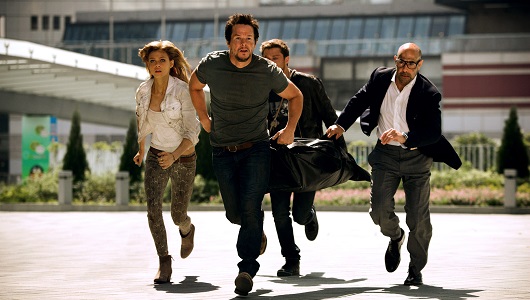 Unfortunately, the only other aspect of the previous films I enjoyed – the soundtrack – has taken a huge step down. The familiar themes of Steve Jablonsky are either absent or underplayed. Instead, we are subjected to a distracting mix of sounds and odd choices of placement too. In the climactic battle, instead of an epic, thumping arrangement, we get a down-tempo song sung at us – which had me literally scratching my head.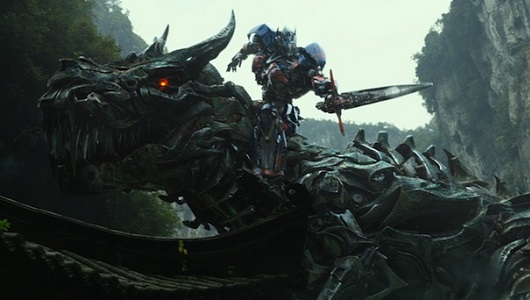 The trend towards more coherent action continues
You feel every one of the 165 minutes go by
Character development does not exist in Bay's universe
The soundtrack is disappointingly a weak point this time around
As with every other entry in this series, Transformers: Age of Extinction adds yet more evidence to the argument that the fun, frenetic action movies of the 90s are no longer within the capabilities of Michael Bay. Instead, we get a crass, humourless, leering mess that fails to entertain, except perhaps in isolated action snippets.
My advice? Avoid.
The author paid to see Transformers: Age of Extinction
Official Movie Site
Tags: Jack Reynor, Kelsey Grammer, Mark Wahlberg, Michael Bay, Nicola Peltz, Paramount Pictures, Stanley Tucci, Transformers: Age of Extinction