Following last year's highly fun and addictive mobile title Rayman Jungle Run comes Fiesta Run, an absolutely gorgeous auto-run platform title filled with inventive level designs and all the charm you'd come to expect for the Rayman universe.
• Developer: Ubisoft Casablanca
• Publisher: Ubisoft
• Reviewed on: Android
• Also Available On: iOS/Windows RT/Windows Phone 8
• Release Date: Available Now

Steering well away from the jungle, this mobile adventure focuses on more of a culinary setting with all of the levels being themed around foods this time. You'll find yourself bouncing off of limes, shimmying down chilies, smashing blocks of sweets and swimming in soda. Every edible element has been rendered in the style of its console-based counterpart Rayman Legends, which has been done so well that it is easily one of the best looking titles available on a touchscreen today.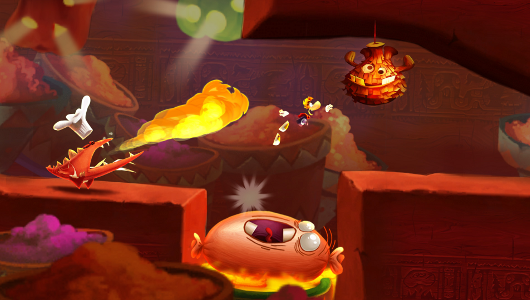 One of the more welcomed changes to Fiesta Run is its relaxed approach to level progression. Instead of Jungle Run's four sets of ten levels that unlock as you beat each previous stage, you'll unlock levels by collecting Lums. New levels will appear on a world map and can then be tackled in any order you desire. This is particularly refreshing as it means that you're not set to one type of level and environment until you finish in the correct order, instead you can mix things up.
When diving into the different levels on offer, the game continually throws different challenges, characters and environments your way. One moment you'll be sliding through a level made in an ice cocktail and the next you'll be taking control of Rayman's good buddy Globox, jumping off of chorizo to attack a fire-breathing lizard chef.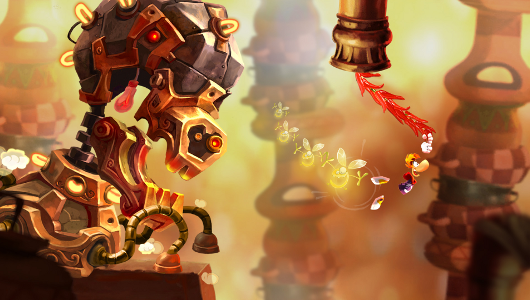 Tying all of this visual excitement together is the same solid tap-based control scheme that made Jungle Run so enjoyable to play. As you progress through your world map, Rayman will encounter his friends along the way and allow you to take control of someone new. Venture further through your progression and you'll re-acquire familiar powers used in previous titles, such as  punching, flying and even a bit of parkour wall-running. Gaining new skills will not only allow you to drive on further into new level but also revisit older ones and improve your technique. Completing a level by reaching the finish line and collecting all of the Lums along your way and you'll unlock new harder modes, which are re-worked levels with extra fire traps, spikes  and other nasty things to trip you up.
Just as with Jungle Run, your aim here is not to reach the end of each the level but instead to max out your Lum counter at 100 each time. This is a quest that never seems to get old while you play through each land, which can probably be attributed to the variety of the lands you travel. Whether you're outrunning a giant mechanical skull or powering through the innards of a large lizard, you'll need to keep your wits about yourself to collect all those little purple guys.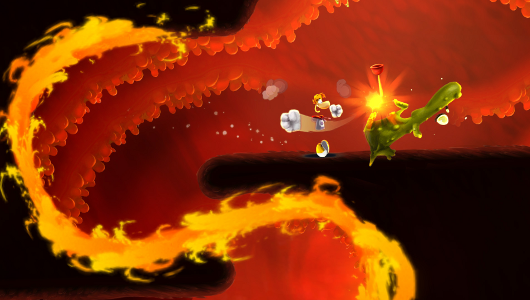 As it has become the fashion with mobile titles today, Fiesta Run does have it's own currency system. Lums that you may have collected through your adventures may be traded in exchange for power-up before levels, and unlock art and character, unfortunately this means that you do have the option to purchase more Lums using your own real world currency. This is something I like most frown upon, as in-app purchases I feel should not be implemented if the player has had to buy the actual game first. However, with Lums being freely available to pick up, older levels readily available to re-visit and top up your balance with and content prices being reasonable, Fiesta Run is actually one of the more realistic titles when it comes to playing through without shelling out the coin.
Beautiful cartoon-y look that sits perfectly next to its console counterpart
Highly addictive and full of challenges to ensure you keep coming back for more
Tied together perfectly by the tightest of tight touchscreen control schemes
Whilst not at all intrusive, the inclusion of in-app purchases in a paid title just isn't right
Far being a case of one acclaimed mobile title followed by a soulless, free-to -play, money grab of a sequel, Ubisoft has made Rayman: Fiesta Run a much richer and expansive pocket adventure than the hit Jungle Run. Stylish, addictive and oozing with energetic charm, you can expect this beautiful title to deservedly hit the top of the major app charts soon.
I payed £1.99 for my Android download, a price I felt more than reasonable for a title that is truly the best of its kind.
The review copy of this title was purchased by the author.
Official Game Site
Tags: Android, iOS, Mobile Games, Rayman, Rayman Fiesta Run, Ubisoft, Ubisoft Casablanca, Windows Phone 8, Windows RT