Year in, year out, gaming charity Special Effect continue to impress the thousands of people who descend on Eurogamer Expo with their dedication to keeping gaming open to everybody, regardless of how able-bodied they are, as possible. Specialising in adapting controllers and control schemes for disabled players, Special Effect uses donations and fundraising to modify game controllers for each and every patron, meaning they can play their favourite games even if they can't use conventional joypads.
In the past, the charity has showcased eye-tracking technology inside PC racing games such as TrackMania: players look left, right and gently up and down to drive and steer. However, for games with more complex control schemes, how do you better adapt controllers for disabled players? Special Effect's brand new rig is a solution for first-person shooters and puzzlers, and to prove its effectiveness they connected the interface up to an Xbox 360 running a retail copy of Portal 2 and invited us to have a shot.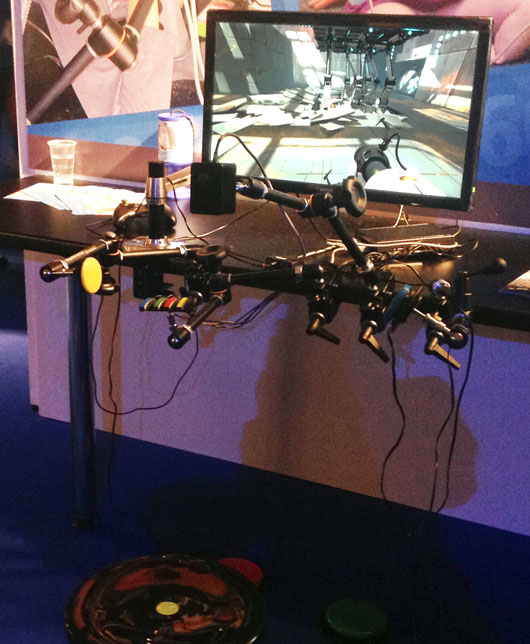 The rig is made up of an analogue stick manipulated with your chin for vertical and horizontal turning and two large floor pedals for walking backwards and forwards. Highly sensitive click buttons for the Xbox controller's action buttons rest to the side, comfortable enough to rest your fingers on. Two large plastic buttons, one on each side, are used to fire each portal by pressing them with your shoulders.
It sounds a little convoluted on paper but, once sat in the middle of the rig, it all adds up. Using the pedals to move back and forth is initially awkward for folk perhaps used to strafing left and right – an action left out of this rig, but possible to add in future – but Portal 2 demands little strafing as is, meaning turning is a case of using the analogue stick with your chin. The sensitivity of the analogue stick is bottomed out for total precision – largely unproblematic, perhaps until later in the game. Only time, and a lot of practice, will tell.
As it is, this new rig is an incredible piece of technology, an adaptable controller which invites an even greater number of people to play some of the world's biggest titles. It is, for the moment, costly – Special Effect estimates it to cost around £1,400 – but the emphasis is on finding a solution first before attempting to cut costs.
Special Effect's Portal 2 rig in action:
The Portal 2 rig is just another great example of the work done by Special Effect to enable everybody, regardless of their ability to use a typical controller, to be able to play their favourite games. You can follow more of their work, and send donations, at SpecialEffect.org.uk.
Tags: Charity, Eurogamer Expo 2012, Portal 2, Special Effect