I play video games with women. Lots of women. Because I'm just sooooooo awesome. Also because lots of women play video games. Nobody knows the exact breakdown, but as far as I'm concerned, women must be somewhere between 30% (bare minimum) and 50% of the gaming population in general.  Based on nothing but PacManPolarBear math. Strip away all the rhetoric, inequality, chauvinism, etc., and what you have left is just a massive segment of the gamer population who just happen to have girl parts and are quickly, yet subtly, changing the social realities of being a gamer for the better.
This is actually "Our Gaming Sisters" 2.o. My first draft bares zero resemblance to this piece. It ended up being a long, defensive/combative, vitriol-filled rant about all the inequalities and stupidity women have to put up with. I scrapped the article. I had written something that lots of other male game journos had already. What was the point? I started with the idea of penning an article about how the women I game with only make things better and had lost my way. I ended up writing some weird "male hero" standing up for women article which ultimately ended up being, honestly I think, a little insulting to women.
I'm not a woman. I have absolutely no idea what it is like to be one. Women are as much a mystery to me today as the first time, when I was a little kid, a girl who liked me cried because she was so happy I liked her too. Men and women are equals, but we are not the same. I scrapped my article because female gamers don't need men to champion their cause. They need only our respect and support. That's not asking much. Just support the efforts of our friends, mothers, wives, sisters and daughters in their pursuit of the same happiness and sense of community the male gaming population already enjoys. I could still spin that into a greater arc about men making decisions for women without asking women for their input and more. I won't though.
This is an article about playing video games with people who happen to be female. I'm not trying to be a role model or act as an exemplar. The Gaming Gods know I have put my foot in my mouth one too many times to claim to be anything more than a man who tries his best. I think the difference between being an ignorant fool and a sensitive human being is the ability to grow and learn from mistakes. I once called Fable 2 "a girl's RPG," and I have yet to live that slight down among more than a few of my female gaming peers.
Now I may not be famous by any stretch of the imagination, but I'd say I have a larger than average circle of people who I game with. Ten years ago I doubt I would have even given a second thought to girls who play video games. Not that they did not exist, simply that I could not see them, hear them or detect their presence as far as being a day to day gamer went. It's this weird scenario where you just assume everyone you are playing with online is a man. Voice chat or not. Sometimes I think the more immature among the male gaming population expect female gamers to log in and immediately text or shout  "I have tits!"
Of course today I have contact with a ton of strong, informed and vocal female gamers. I asked for the women I know on Twitter, Facebook, PSN, XBL, etc. to  let me know which recent game is their favorite. Unsurprisingly to me but maybe to some, the number one game mentioned was Skyrim. Followed closely by Modern Warfare 3, with Rayman Origins a distant third. Now to be fair that is based on 111 replies, gathered over 24 hours, and I cannot guarantee all of those people who responded are actually women (dudes pretend to be women online go figure). Still, I have played games, Skyped or what have you with lots of people on my friends lists, so I'm confident the majority of respondents were actually women. All this to say, look, the most popular games among my female peers are pretty much exactly the same as those among my male peers.
When I manage to pick a game for a GamerNight that does not have broken multiplayer (damn you Twisted Metal), we usually end up with a girl or two in the party. Now the ladies may not use voice chat, and that whole can of worms has been spoken of to death, but they are there. When they do use voice chat, it does change the dynamic within the party. It just does. However, unlike in a pickup group filled with strangers, a woman using voice chat among a group of male friends is totally different.
Throw a group of amped up men together, and their behavior is rarely mature. Of course, women love to be just as competitive and talk just as much smack as men, but there is definitely a dynamic to a wholly male group that changes when you add a female equal. At least as far as I've seen, the effect is a calming one. You still get the typical "lets help the girl" or people trying to endear themselves, but especially with a group of friends who've played together, having a girl in the party keeps the things rounded. It's just nice to play video games with girls. They have jokes, points of view, strategies, quirks and more that only round out our collective gaming experience without taking anything away. Women are right there besides you screaming "Mother***er!" at the screen and losing their sh*t when the party gets disconnected.They don't suck at video games or need coddling by default. If they do, it's because they are noobs, not because they have the ability to give birth.
So playing video games with girls is pretty much the same as playing with guys … only with a different flavor if you will.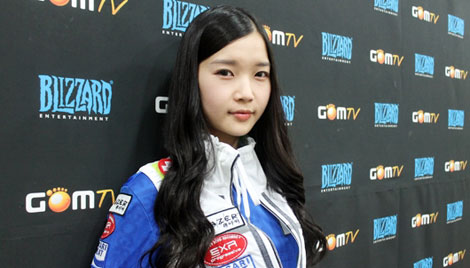 Outside of actually playing games, I see women making their presence felt more and more among the foundations of the gaming community: our blogs, podcasts, twitter feeds, etc. I call these our foundations because gaming has increasingly become a community experience. As women continue not only to create their own sites and avenues to express their gamer awesomeness, but also to take their rightful place as equals among long standing site communities, so to is their presence represented in game without the need for them to "announce" they are girls to the people they are playing with.
The last few years I have basically given up watching conventional sports and turned to E-Sports. Here, at least, we have  sports where men and women are truly on a level playing field. There may not be as many female pro gamers as men, but there will be one day.  Hell, 10 years from now I could even see an idol culture blow up around female pro gamers. It's already started…
I'd also like to voice a simple truth. Being a female gamer is attractive to male gamers. Having a person who shares your interests, who is involved with your core hobby and its greater world is a powerful thing. I'm not talking about the creepy pickup lines thrown across XBL or the equally creepy and smelly, encounters at E3 female gamers suffer through. I think some of that is just your typical male/female awkwardness. The more accepting and inviting we, men, are to women who want to and deserve to have a spot amongst the gaming population of the world, the better it is for all of us. Socially, creatively, financially and, yes, romantically. Nerd love FTW!
Playing video games makes me happy. Playing video games with my friends makes me even happier, no matter what may or may not be dangling. The differences between my female peers and my male ones is not dramatic; it's as subtle and yet as complex as the difference between men and women in general life is. The other half picking up a controller only empowers us all, and makes happiness all that more likely. Women exist in every facet of gaming culture and their influence and creativity can only make our hobby and our culture that much better. I'm sorry but I have no interest in gaming being one big digital sausage party for the rest of my days. Not when a world exists where giving my girlfriend Skyrim for Valentine's Day can earn me brownie points.
The days of gaming being a fraternity are over. There will always be room in my party for my gaming brothers AND sisters.
Join the forum discussion on this post
Tags: Equality, modern warfare 3, Rayman Origins, Skyrim, Twisted Metal, Women